The Pistol - The Birth of a Legend
(1990)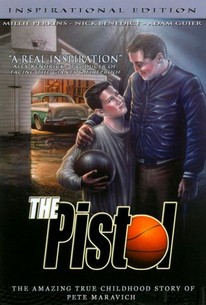 AUDIENCE SCORE
Critic Consensus: No consensus yet.
The Pistol - The Birth of a Legend Photos
Movie Info
This is the biopic of basketball star Pistol Pete Maravich, here played by Adam Guier. The film is for the most part an exercise in joie de vivre, until it ends as it tragically must, with the sudden and untimely death of Maravich. Writer Darrel Campbell and director Frank Schroeder perform miracles with their tiny budget. Though Pistol is comparatively little known, odds are it won't remain that way much longer.
Critic Reviews for The Pistol - The Birth of a Legend
Audience Reviews for The Pistol - The Birth of a Legend
½
I wanted to see this 1991 biographical sports film about the 1959 8th grade basketball season of Pete Maravich because I really appreciated his father Press Maravich - in real life. This was just a sugar coated version made with low budget, and probably as a result we got bad acting, bad editing, bad dialogues in a film which presents his early beginnings and the origin of the "Pistol" nickname. The events were set in Clemson, SC, where the elder Maravich served as head coach for Clemson Tigers men's basketball. The story was told in such a fashion like it's intended as a bed time story - to make you fall asleep quickly! I found out that most of the time the only positive reviews are coming from Christian film clubs! The film is regarded as a family film - I will say for families who have no life! There are some good advices and life coaching lines in it, but everything was presented the worst possible way! Skip it!
This deserves to be up there with the best of the best basketball films ever made. Very underrated. Being born in 1980, I never got to see Pistol Pete play (I've only seen a few plays of his on ESPN), but I remember my 10th grade English teacher, Mrs. Crew, having us watch this movie and all the black boys sitting around me were even amazed at how the boy, Adam Guier, could do so many things w/the ball so well at that age. If Pistol Pete had lived up to his full potential (i.e., been as good as he was in college - he still has the all-time record for most points per game average in a season - 40 something, that won't ever be beat) and played longer in the NBA than he did, it'd be him everyone knows and hears most about than Larry Bird. This movie was a pure joy to watch. Not only did I see it in the 10th grade, I watched it again last weekend.
Jason Owens
Super Reviewer
Terrible movie about an amazing player. The religious angle makes it creey, too.
The Pistol - The Birth of a Legend Quotes
There are no approved quotes yet for this movie.