Pitch Black
(2000)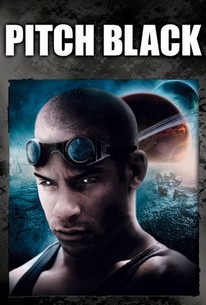 TOMATOMETER
AUDIENCE SCORE
Critic Consensus: Despite an interesting premise (and a starmaking turn from Vin Diesel), Pitch Black is too derivative and formulaic to fully recommend to sci-fi or action fans.
Movie Info
In this science fiction thriller, a spaceship is transporting a disparate group of people to a far-away galactic outpost called New Mecca. Mechanical failures cause the craft to crash-land on an abandoned planet that has three suns and no night. The only member of the crew to survive is junior pilot Carolyn Fry (Radha Mitchell), while the passengers who climb from the wreckage include a police officer (Cole Hauser) and the prisoner he's transporting, Riddick (Vin Diesel). As Fry and the other survivors survey the abandoned dwellings of the desert world while trying to decide what to do next, one of them is killed by a mutant creature living in an abandoned mining site. The vicious and bloodthirsty mutants, who live underground, have killed all previous inhabitants of the planet; they cannot stand sunlight, but research reveals that the planet has a total eclipse every 22 years, and the latest one is due any moment. Pitch Black was directed by David N. Twohy, who also made the sci-fi cult item, The Arrival. ~ Mark Deming, Rovi
Critic Reviews for Pitch Black
Audience Reviews for Pitch Black
David Twohy's mixture of horror and science fiction works wonders in Pitch Black.
A 100 minute story on a barren wasteland of a planet actually turns out quite well for this picture. While not exactly an adrenaline rush, the consistent level of intrigue is enough as this film goes from day to night in a blink of an eye.
The CG is a mixed bag, but ultimately acceptable when all is said and done. The level of violence and blood is somewhat conservative, but enough for an R rating.
The cast of characters is what makes this story go. Riddick is a solid character backed by an excellent casting choice in Vin Diesel. Radha Mitchell and Cole Hauser share the screen well with Mr. Diesel.
Pitch Black does succeed with what it sets out to do, and while it isn't perfect, it is a recommendable watch. "You're not afraid of the dark are you?"
Average action film starring Vin Diesel, that being said, I didn't expect much from Pitch Black, but I was pleasantly surprised. Although lacking in effective storytelling, this film boasts enough action to keep you interested from start to finish. The film is good for what it tries to accomplish, but if you're looking for a well structured film with a great story, you'll sadly be disappointed. The plot is decent at best, but it never is anything memorable. The film succeeds at being an action extravaganza and it is a fun and entertaining one at that. Diesel is good in the role, but I'll be honest, he's just not a good actor, but here he's more suited for these types of roles and he manages to have a good on-screen presence here. Pitch Black has its flaws, but is worth seeing if you enjoy mindless action Sci Fi films. The other performances are good, but not great, and the film relies on array of effects to really set the tone of the film. Pitch Black is good, mindless entertainment; however it could have been much better. With a few script rewrites, this film really could have stood, and be a memorable action film. In the end, it falls short of its potential, and never realizes what it should have been. This picture could really have a highly memorable movie, but due to a lacking script, a cast of average actors, it's a movie leaves a lot to be desired. In other words, Pitch Black is a film from a specific audience. I love action films, but I feel that despite its premise, it should have been a much better movie than what we got. As it is, it's mindless popcorn entertainment. Nonetheless despite its imperfections, I liked the film, and I didn't expect to really enjoy it. Vin Diesel fans will surely enjoy this movie, and the action is good despite everything else.
½
An exhilarating and heart-pounding edge of your seat thriller that's packed with big scares and pulse-racing tension. A tremendously entertaining and fiercely original sci-fi film. Vin Diesel gives a sensational performance, playing an engaging and brilliant character
Pitch Black Quotes
| | |
| --- | --- |
| Johns: | Zeke! Fully loaded clip, safety's on, one shot if you spot him. |
| Zeke: | Don't tell me you're going off too. |
| Paris: | What happens if Mr. Riddick spots us first? |
| Johns: | There'll be no shots. |
| | |
| --- | --- |
| Richard B. Riddick: | You're not afraid of the dark, are you? |
| | |
| --- | --- |
| Johns: | Hey, I thought I said no shivs! |
| Richard B. Riddick: | You mean this? This is just a personal grooming appliance |
| Richard B. Riddick: | You mean this? This is just a personal grooming appliance. |
| | |
| --- | --- |
| Richard B. Riddick: | You got it all wrong, holy man. I do believe in God, and I personally hate the fucker. |