Pixels
(2015)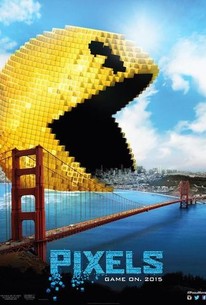 TOMATOMETER
AUDIENCE SCORE
Critic Consensus: Much like the worst arcade games from the era that inspired it, Pixels has little replay value and is hardly worth a quarter.
Movie Info
As kids in the 1980s, Sam Brenner (Adam Sandler), Will Cooper (Kevin James), Ludlow Lamonsoff (Josh Gad), and Eddie "The Fire Blaster" Plant (Peter Dinklage) saved the world thousands of times - at 25 cents a game in the video arcades. Now, they're going to have to do it for real. In Pixels, when intergalactic aliens discover video feeds of classic arcade games and misinterpret them as a declaration of war, they attack the Earth, using the video games as the models for their assaults -- and now-U.S. President Cooper must call on his old-school arcade friends to save the world from being destroyed by PAC-MAN, Donkey Kong, Galaga, Centipede, and Space Invaders. Joining them is Lt. Col. Violet Van Patten (Michelle Monaghan), a specialist supplying the arcaders with unique weapons to fight the aliens.(C) Sony
Critic Reviews for Pixels
Audience Reviews for Pixels
½
There have been a few movies that have incorporated videogames into their plots, the last big flick to do so being 'Wreck-It Ralph' which was truly delightful. Up until that animated blockbuster there hadn't really been any movies that managed to use the various official videogame characters all under one roof (ala Roger Rabbit), but now we have our second, and again its the retro mob. Yep, the key element in this movie is the use of the really old school, original videogame sprites that featured in (mainly) Atari 2600 games back in the day. Now this will of course appeal to folks of my age group and up, but would it appeal to the younglins? hmmm. So basically, the entire gist of this flick is thus...back in the 80's NASA sends a VHS of a videogame championship into space, within a time capsule, for some reason. Little does Earth and its inhabitants know, that capsule was picked up by some alien race and taken as an act of war, because of course. Fast forward to the present day (I think) and those aliens have come to Earth to wage war on mankind...because of that ancient VHS tape containing a videogame championship. So...I realise these aliens might not understand human customs and whatnot, but surely they could understand the premise of a competition of some kind? they are clearly very intelligent. Anyways, the aliens are here and are raining down attacks on Earth using life-sized pixelated videogame sprites, only one man can stop them...the same dude who came second in that videogame championship way back in the 80's (plus his mates). Now obviously me being nearly 40 years of age I was thrilled to see and hear all these classic videogame sprites and characters utilised for this movie. Lets be brutally honest here, that is the carrot on a stick for this movie, and to that degree it works, if you like retro videogames. While the visuals weren't exactly jaw-dropping it was very cool to see the various old videogame warhorses like Donkey Kong, Centipede, Paperboy etc...and finally Mario (although in a background cameo), all getting screen time. The effects for various Earth-bound objects getting obliterated into a mass of glowing pixels was a neat little trick and pleasing to the eye, the inclusion of old TV show footage being used by the aliens as a method of communication was also a neat touch and clever use of CGI. Plus in the inclusion of Max Headroom made me grin from ear to ear like a complete dribbling idiot, despite! his inclusion being completely nonsensical as he isn't, or wasn't, a videogame character, so why was he even there? Anyway, those are the plus points. Now, as for the negative points, I'm not gonna just berate this movie simply because its essentially an Adam Sandler flick. No, I won't go that low...I'll go lower! NO!! no I won't, I'm better than that. But yes...yes we all know this is a Sandler production and its stars most of his mates, and by that I mean the ever fading star know as Kevin James. Now considering this, its not as bad as you think, no it isn't. Yes the jokes are lame, flat and unoriginal, yes the acting is tepid with blatantly forced cameos and yes we've seen all this before with Sandler, but its still not that bad, or not as bad as it could be. The real offence is the fact that this movie could of been so much more. The basic premise is shallow as fuck but there is a little gem of an idea here, an acorn ready to grow into bigger things. For a start nothing is explained, not that its really important but come on! Aliens invade Earth yet no one is really shocked by this, hell at first the notion that these aliens might be attacking us using 1980's videogame sprites is merely brushed aside as frivolous poppycock. Why is no one amazed, shocked or in awe about what's happening here?? Next to this the plot moves along at a rapid pace, after the semi decent 80's set opening we're in the present day, then before you know it aliens are dropping out of the sky, everyone has accepted this and we're planning D-Day. They manage to discover strong light beams take the aliens down...somehow, and again before you know it, everyone has one and they're blasting aliens to kingdom come. The President (James) is somehow allowed to have is blue collar best mate inside the White House at all times, including top secret security meetings and is all this going on all over the world or just America? Seems like America because at no point does anyone really consider telling the rest of the world how to deal with the problem. Now when it comes to the aliens and their videogame attack methods, why?? Why are they playing games when attacking Earth? Yeah I realise they are copying/mimicking what they saw on that ancient VHS, but surely if they wanna destroy Earth they could just do it. Why give Earth 3 lives? why bother doing any of that even if it appears that's how we do things on Earth, unless of course they are just doing this fun? to check us out? see it as an intergalactic challenge? Who knows because nothing is explained or expanded upon. The biggest and stupidest question mark is the sexy female videogame sprite that for some reason isn't pixelated like all the others. So can someone explain this to me, why did that attack sprite change into a non-pixelated version? how does that sprite somehow understand and feel love? why did it attack its own kind so easily? Surely its merely a lifeless, thoughtless drone that only knows to attack its target, its made up of pixels and presumably has no brain. Oh and while we're on the subject of the sprites, what the hell were those trophies about? why? what are they for? are they living because Q*Bert seemed to be an intelligent individual creature. The whole story is left completely unresolved really, so many questions like who are these aliens, where do they come from, did they create these pixels just to attack us or does their race use them specifically etc...Apparently there was even a peace treaty agreed on at the end of the movie, when and where did that happen?? did the President meet the aliens?? does the rest of the world know about this??!! Ugh! seriously, I'm just disappointed if anything, as I said already the premise is simple but promising and this could of been a real treat. Alas it appears to have been rushed and poorly thought out, if at tall. Yes the sight of Sandler and co playing a life-sized CGI Donkey Kong is kinda cool, the sight of large CGI retro sprites is cool and we all know not to expect a deep movie here. But come on, I don't just want shoddy popcorn flicks, I wanna see flicks with some thought behind them, even a little bit of thought at least. Final thought, who is this movie aimed at exactly? Clearly its for kids, but it isn't is it, because most kids these days have no clue about any of this. Its kinda aimed at adults, I'm assuming, because of the retro content, but then why not make it for adults and make it a bit more risque, that's where Sandler can shine. Instead we have this odd middle ground which doesn't really serve anyone properly. I'm willing to bet most youngsters were utterly lost when Max Headroom popped on screen, great retro blast for the grown-ups, flew right over all the kids heads I'm sure.
Phil Hubbs
Super Reviewer
½
Pixels is an alien invasion thriller with childlike sensibilities, which makes little sense since the only people who can appreciate 80's arcade games are all adults now. Also, it's just not funny. The inherit problem is that it doesn't seem to please any demographic. 90% of the humor doesn't appeal to a mature audience, (or anyone with a decent sense of humor) also the story and characterization of cast members much too basic to receive any sort of commendable phrase. Yet if it were a children's film a lot of the rudimentary themes and formulas used would be acceptable, but we're constantly reminded that this is in fact adult entertainment. Pixels isn't devoid of creativity and paints an original premise but fails in recognizing the audience that it's meant to capture culturally. Terms and ideas used in the movie are simply dated. Nerd as a derogatory term? Being good at video games is a waste of time? It's 2015, nerds are the new cool and we have e-sports with Pro gamers earning millions in winnings. It's pretty obvious that the idiots behind this project were just attempting to cash in on the geeky pop culture surge of recent but have no idea what the surge is actually about. If you're looking for sparkly visuals on the movie screen, sure it might be worth a bit of your time but all in all Pixels is an out of touch would-be children's film mired with irrelevant adult themes and lazy acting by Sandler, squandering the efforts of his talented co-stars.
Drake Tsui
Super Reviewer
No laughs, no wit, no charm and no better than the recent Happy Madison atrocities.
Pixels Quotes
| | |
| --- | --- |
| Eddie "The Fire Blaster" Plant: | I made your game my bitch. |
| | |
| --- | --- |
| Sam Brenner: | Oh, God no! |
| Lt. Col. Violet Van Patten: | "Oh, God no!" What? |
| Lt. Col. Violet Van Patten: | Oh, God no what? |
| Ludlow Lamonsoff: | He ate the power pellet. That means Pac-Man has only ten seconds before he eats us! |
| | |
| --- | --- |
| Sam Brenner: | I'm Donkey Kong Champion of the world. |
| Lt. Col. Violet Van Patten: | And the Donkey Kong Champion of the world doesn't need patterns. |
| Sam Brenner: | Reset button! |