The Plague of the Zombies
(1966)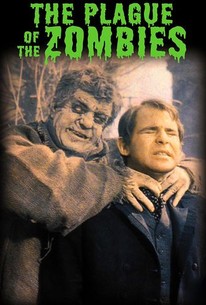 The Plague of the Zombies Photos
Movie Info
A wonderfully atmospheric outing from Hammer Films, who diverged from their often successful variations on Universal's classic monsters into the world of zombies, a genre which had yet to receive its infusion of terrifying new blood with the 1968 classic Night of the Living Dead. The plot, which owes a debt to the Bela Lugosi chiller White Zombie, involves a mad Cornish squire, who solves an annoying labor crisis in his tin mines by turning local villagers into voodoo-controlled zombies. Dr. Thompson (Brook Williams) and his daughter Alice (Jacqueline Pearce) soon discover the unpleasant nocturnal habits of the shambling undead slaves -- including their tendency to go on murderous rampages when not directly under the squire's control. At the request of Alice, Sir James Forbes (André Morell) arrives on the scene to investigate. The superb script by Peter Bryan employs an interesting subtext about the rift between the British aristocracy and the exploited working class, but the film is less a political allegory than a spooky, atmospheric horror opus that ranks among Hammer Films' finest. ~ Cavett Binion, Rovi
Critic Reviews for The Plague of the Zombies
Audience Reviews for The Plague of the Zombies
Plague of the Zombies offers up the voodoo brand as opposed the rotten diseased brand of zombies. Not my preference, but combine some creepy zombies with that trademarked Hammer gothic atmosphere and you're in for a good time. The zombies are sporadic but they're pretty nasty when they actually do show. Plague of the Zombies has some legitimately disturbingly-done moments (the would-be rape scene, Thompson's nightmare) that pay off for the slow buildup. But as with a good many Hammer movies, the last 15 minutes make up for it. And for as much of a tightass as Andre Morell came across as in the first 15 minutes, he kicked some serious ass in the end.
Michael Gildea
Super Reviewer
Up until the late 60's, zombies were almost exclusively depicted as the brainwashed, lumbering slaves of evil voodoo masters, I believe. They are as such here but also shown as foul, cadaverous creatures risen from freshly dug graves. Old school spooky atmosphere with voodoo drums thrown in only the way Hammer Studios could do. It's awfully British, but fun nonetheless.
El Hombre Invisible
Super Reviewer
½
tcm fans! hammer horror featured every friday night in the month of october! set the dvr!
Stella Dallas
Super Reviewer
The Plague of the Zombies Quotes
There are no approved quotes yet for this movie.