Plague Town
(2009)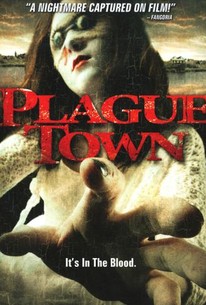 AUDIENCE SCORE
Critic Consensus: No consensus yet.
Movie Info
The debut feature from Dark Sky Films, David Gregory's Plague Town tells the nightmarish tale of a family traveling through Ireland, and the horrors that await them upon stumbling into a remote village populated by deformed, homicidal youngsters and the parents who will do whatever it takes to protect them.
Critic Reviews for Plague Town
Audience Reviews for Plague Town
It was ok...not the best zombie flick out there.
Jacob Palacio
Super Reviewer
A few tense and/or creepy moments but otherwise a lackluster killer kids movie with a typical and unsatisfying ending.
A.D. Villarreal
Super Reviewer
Frustratingly average "village with a secret" horror film, with a confused and predictable plot trajectory, precious few scares, and an ending I've now seen in at least half a dozen other films. The very low budget shows - characters are bludgeoned with tree limbs bloodlessly and unconvincingly - with what looks like a good percentage of the money going on a, actually quite decent, CGI assisted death by cheese wire. The acting, with the exception of Josslyn DeCrosta, is astonishingly bad and the script certainly doesn't help matters. But even with more money thrown at the project and some star power, Plague Town only has a couple of truly original ideas, which are unfortunately not expanded upon in any meaningful way. Though the directors and DeCrosta show some promise, there's very little here that is interesting or new, meaning this is just another run-of-the-mill deformed-people-in-the-woods flicks, heading to a bargain bin near you.
Daniel Parsons
Super Reviewer
Plague Town Quotes
There are no approved quotes yet for this movie.