Planes: Fire And Rescue
(2014)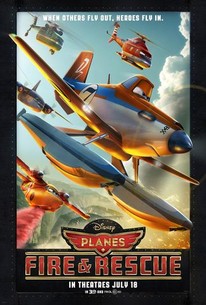 TOMATOMETER
AUDIENCE SCORE
Critic Consensus: Although it's too flat and formulaic to measure up against the best family-friendly fare, Planes: Fire and Rescue is a passable diversion for much younger viewers.
Planes: Fire And Rescue Photos
Movie Info
Adventure flies higher than ever before in this sequel to Disney's Planes. ~ Jason Buchanan, Rovi
News & Interviews for Planes: Fire And Rescue
Critic Reviews for Planes: Fire And Rescue
Audience Reviews for Planes: Fire And Rescue
The high flying adventures of the world of Planes continue in Planes: Fire & Rescue. When his town is shut down due to fire code violations, newly crowned racing champion Dusty Crophopper decides to go to Piston Peak to get trained as an aerial firefighter so that his town can re-open. The voice casting's pretty good and brings a lot of personality to the characters. And, the animation's fairly well-done; given the Cars/Planes simplistic design style. Yet, the film limits itself by skewing toward younger audiences. Still, Planes: Fire & Rescue is an entertaining and enjoyable film that's a lot of fun.
Dann Michalski
Super Reviewer
Having a hard time deciding whether to give this film 2 or 2.5 stars. I think it's only SLIGHTLY better than 2, but it's not quite average either. What I will say is that it is most definitely an improvement over the first film, which I thought was terrible. I realize going from 1.5 to 2 stars isn't much of an improvement at first glance, but Planes was a really bad 1.5. This is a good 2. I realize none of this makes any sense, but it does to me, so that's what matters to me right now. The main problem I had with the first film is that it was basically a shameless repeat of the Cars 2 story with the exception that it was, you guessed it, planes instead of cars. You can't really accuse Disney of plagiarizing themselves, since they own the Cars franchise, but you can accuse them of not giving enough of a shit to try to tell a different story. At the very least, while still cliched, generic, and slightly uninspired, this isn't so much of a ripoff. Then again, the story of Dusty training to become a firefighter is directly ripped off from when Dusty trains to be a racing plane in the first movie. Regardless of that, I think it has some genuinely good moments with the fire that engulfs almost the entire forest at its climax. This is easily the peak of the film, because the animation looks pretty damn solid. Nothing outstanding, but they do a good job at selling the drama of it. It's also easier to get into the characters, while they aren't exactly the most complex, they also aren't complete racial stereotypes as they were in the first movie. Though there's this character, Dipper, who's pretty much completely obsessed with Dusty after meeting him. If you know the 'overly attached girlfriend' meme, then that's what Dipper is. It might be seen as a negative stereotype by some, but at least the character was somewhat "interesting", if one-dimensional. There's some funny lines here and there, but this is clearly meant for the kids, so a lot of the humor is clearly directed at them. I'm not even gonna start with my usual rant about how these films should find ways to appeal more to adults, since they actually have to take the fuckers to watch these movies, but this movie is certainly better at that than the first film. There's 25 kiddie jokes for every "adult" one, but it is an improvement. If you can call it that. The animation is still very bland for the most part, with the exception of the forest fire, which probably took up a lot of space on that hard disk drive during the creation of the film. This scene is still impressive looking though. Interesting that this is, essentially, a kids' disaster film. Never thought I'd see the day. As long as it makes for a better movie, then I'm all game. However, due to a quick turnaround, this film still has that DTV look and feel to it. The original was actually intended to be released direct-to-video, but somehow find its way onto film theater nationwide. It was just a way to sell more merchandise clearly, since the original film had no right to be released in theaters. This one is only slightly better than that, but it's still, essentially, a direct-to-video affair. Somewhat famous people voicing characters doesn't make this theater-worthy. The material is still several notches below Pixar's best. Hell it's several notches below Disney's recent efforts such as Tangled (which I didn't like) and Frozen (which was just good). I haven't seen Big Hero 6, but I can almost guarantee this is below that as well. And it doesn't even come close to The Lego Movie, an instant classic. Just because the movie is barely watchable and improves upon what came before it, that doesn't mean that it's any good. I may have sounded positive about this movie in some parts, but that's only because it improved so much over the first film. That doesn't mean that these improvements were good. I just mean that there's still a lot of work to go, but this was a step in the right direction. Not gonna set the world on fire, but kids should love it and that's what parents really care for nowadays. At 73 minutes, the rest is all credits, this will definitely fly by, pardon the goddamn pun, it really wasn't intended.
Jesse Ortega
Super Reviewer
½
Well here we are with the sequel to a poor movie that was a spin off of another half assed kids movie, yet bizarrely this movie is actually pretty good! The first adventure in the skies was basically a very dull very poor 'Cars' spin off that didn't do anything we hadn't already seen in the 'Cars' movie. It was quite awful with seriously lackluster characters truth be told. Yet despite this something has happened here which has turned the franchise upside down...almost. Yes its all the same dubiously cliched and stereotypcial characters and yes the plot isn't exactly the greatest piece of original writing ever to touch down...but its actually fun! Put simply, Dusty the Air Tractor has ruined his internal bits n pieces with too much hardcore racing. Whilst being the arrogant cocky little sod that he is he crashes and causes a fire which in turn alerts some fire safety inspector truck dude to close the airport due to lack of a decent firefighting crew. In order to restore the airport to its former glory Dusty goes off to Piston Peak National Park (GREAT NAME! and presumably in the Wyoming/Colorado area of this universe) to learn to be a firefighter plane. From there on its the predictable overused age old scenario where at first Dusty finds it hard mixing in with the fire crew. He slowly gets to know the team, discovers one female plane fancies him but the chief Ranger chopper thinks he's no good for the team, he won't make the grade. After numerous training sequences, whinny sulky moments, some heart-to-hearts and one to ones...a major fire breaks out which means its time to get down to the business of saving the day hero style. Essentially its the underdog schtick all over again with a highly obvious outcome all round for every character...the little plane that could. I think the main difference from the first movie is the fact the visuals here look really really nice. Don't get me wrong its nothing that's gonna blow you away in a shower of epic CGI rainbows...it just looks very good and way way better than before. The first movie looked like an obvious made for TV flick and very basic. This time its been upgraded with a fresh coat of Turtlewax and its gleaming in every frame, background foreground and all the vehicle characters. There is a wide selection of characters in here also but surprisingly that doesn't compromise the story. Actually many of the new characters are highly likable and really add a much needed to boost that was lacking before. Ed Harris as the Fire Ranger chopper is as you would expect...stern serious and without a sense of humour, but he's still a likable fella because he fair and righteous (not in an all American way though), and he looks good as a fire engine red chopper. Wes Studi voices a character that seems to be of Native American descent...I'm guessing by the way he speaks as I don't think its mentioned. This might seem incredibly cliched by now...which it is...but again he's a great character. His large green Skycrane design does eerily suit this Indian notion to a tee with its long curved blades that kinda look like long drapes of black hair and of course the helicopter wrap or colour scheme design seems to replicate typical Native American warpaint/face paint (around the eyes). Gotta give kudos to the cool little team of smokejumpers that are made up of small JCB construction/excavator vehicles. Not only do these guys look quite cute nippy and cool, they are also quite amusing and not in any way annoying! I half expected them to leap into action by combining together to form a large Transformer-esque Constructicon (nerd smirk). There is a large voice cast in this movie, many small and large characters but at no point does it ever feel swamped, its handled well. Despite the plodding exhausted plot premise at least they have tried to expand the story without retracing their steps. Yeah sure we've seen this kinda of thing before but the fact they make the old characters push forward into new territory creating a fresh angle for themselves (firefighting), and not going back to the old original plot premise of crop dusting/racing (which is hinted at but swept aside), is a big positive. I was sure at one point that Dusty would probably go back to his racing ways (predictably)...but no! he doesn't, he moves on and this in turn generates a nice new chapter for the franchise. In that I wouldn't mind seeing another entry here. The blend of various vehicles is fun to watch if totally ridiculous at times, why would they need certain buildings like restaurants ? why would they have drinks in glasses at a function? wouldn't every building be humongous to house certain vehicles like large planes etc...Try not to get too technical with this incredibly insane premise as it is after all completely a kids flick and in no way meant to be taken any other way. Miles better than the first movie, leagues ahead with quality and some nice little visual gags for us older folk...Boat Reynolds! 'CHoPs' instead of 'CHiPs' (old 70s/80s TV show, in this universe its based around choppers/helicopters) and 'Howard the Truck'.
Phil Hubbs
Super Reviewer
Planes: Fire And Rescue Quotes
| | |
| --- | --- |
| Dipper: | I like watching you sleep. |
| | |
| --- | --- |
| Dusty: | Let's kick it up a notch! |
| | |
| --- | --- |
| Blade Ranger: | Rip off his landing gear! |
| | |
| --- | --- |
| Blade Ranger: | You came here to become a firefighter. |