Planes, Trains and Automobiles
(1987)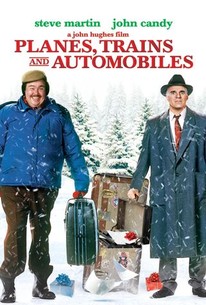 TOMATOMETER
AUDIENCE SCORE
Critic Consensus: Thanks to the impeccable chemistry between Steve Martin and John Candy, as well as a deft mix of humor and heart, Planes, Trains and Automobiles is a hilarious, heartfelt holiday classic.
Planes, Trains and Automobiles Videos
Movie Info
Were it not for its profanity-laden opening scenes, John Hughes' Planes, Trains and Automobiles might have been suitable family entertainment: certainly it's heaps less violent and mean-spirited than Hughes' Home Alone. En route to Chicago to spend Thanksgiving with his family, easily annoyed businessman Neal Page (Steve Martin) finds his first-class plane ticket has been demoted to coach, and he must share his flight with obnoxious salesman Del Griffith (John Candy). A sudden snowstorm in Chicago forces the plane to land in Wichita. Unable to find a room in any of the four-star hotels, Neal is compelled to accept Del's invitation to share his accommodations in a cheapo-sleazo motel. Driven to distraction by Del's annoying personal habits, the ungrateful Neal lets forth with a stream of verbal abuse. That's when Del delivers the anticipated (but always welcome) "I don't judge, why should you?"-type speech so common to John Hughes flicks. The shamefaced Neal tries to make up to Del, but there's a bumpy time ahead as the mismatched pair make their way back to Chicago, first in a balky train, then by way of a refrigerator truck. We know from the outset that the oil-and-water Neal and Del will be bosom companions by the end of Planes, Trains and Automobiles, but it's still a fun ride. The best bit: a half-asleep Del thinking that he's got his hand tucked between two pillows -- until his bedmate, Neal, bellows "Those aren't pillows!" ~ Hal Erickson, Rovi
News & Interviews for Planes, Trains and Automobiles
Critic Reviews for Planes, Trains and Automobiles
Audience Reviews for Planes, Trains and Automobiles
½
Classic 80s buddy comedy about two travelers whose paths keep crossing during a chaotic thanksgiving trip home. Just one of the those films you could watch over and over without getting tired of the jokes and situations they have to go through. Steve Martin is excellent but John Candy does the impossible and out-acts him with his unique, annoying yet lovable character Del. He'll never be forgotten for this performance. Highly quotable and with a sweet melancholic touch in the end, this is a real feel good movie. They just don't make such films anymore. Easily one of the funniest flicks ever, I can't think of one film from the last 10 years that could even get close.
Steve Martin had no reason to panic...until John Candy came along. Good Comedy! Steve Martin and John Candy don't just act; they embody themselves so deeply in their characters that it almost sets a standard for how comedic pairings should be. Planes... is a heart warming film about family, friendship and good will towards men. It is also a wickedly funny movie and it will stand the test of time and I think in 30 or 40 years from now, it may be looked upon as Hughes best film. Candy and Martin are wonderful in here and it is really a treat to watch them work together. All that Neal Page wants to do is to get home for Thanksgiving. His flight has been cancelled due to bad weather, so he decides on other means of transport. As well as bad luck, Neal is blessed with the presence of Del Griffith, Shower Curtain Ring Salesman and all-around blabbermouth, who is never short of advice, conversation, bad jokes, or company. And when he decides that he is going the same direction as Neal....
½
Del: You wanna hurt me? Go right ahead if it makes you feel any better. I'm an easy target. Yeah, you're right, I talk too much. I also listen too much. I could be a cold-hearted cynic like you... but I don't like to hurt people's feelings. Well, you think what you want about me; I'm not changing. I like... I like me. My wife likes me. My customers like me. 'Cause I'm the real article. What you see is what you get.  "What he really wanted was to spend Thanksgiving with his family. What he got was three days with the turkey." In ways, Planes, Trains, and Automobiles was exactly what I thought it would be; extremely hilarious, with some solid dialogue, weird situations, and slapstick humor. In other ways, it wasn't at all like I thought it would be, mainly because of a heart warming ending, which was actually really well done. Combining what I expected and what I didn't together, this film was better than I could have imagined. It doesn't only work because of one or two reasons, but numerous ones.  Neal is New York for meeting two days before Thanksgiving and expects to make it back to Chicago on the 6 pm flight. When that winds up being delayed and then re-routed to Wichita, Kansas, he his in for the trip of a life time. The whole way, he has Del with him and that only makes matters worse for Neal. Del is one of those guys who never shuts up and spends the entire runtime driving Neal crazy. The story sees the two travel half way across the country, then halfway across again to get home. Along the way, they get into weird situation after weird situation. Will Neal get home in time for Thanksgiving? A major reason this film works so well is the comedic brilliance of Steve Martin and John Candy. They are both doing some of the best work of their careers together here. Their screen presence is brilliant and they're so in synch with one another.  This is one of my new favorite John Hughes movies too. It's right up there with The Breakfast Club.  It's easy to see why Planes, Trains, and Automobiles is such a beloved classic. It's beyond funny, it's smart while being stupid at the same time, and it has a heart that few comedies like this do. It seems like a movie in the hands of someone else, would have just been mean spirited. But it isn't. Through everything that happens to these two characters, there's always a sense of "feel good" spirit radiating from every inch of the film. It's a must, must see.
Melvin White
Super Reviewer
Planes, Trains and Automobiles Quotes
| | |
| --- | --- |
| Car Rental Agent: | May I see you rental agreement? |
| Neal Page: | I threw it away. |
| Car Rental Agent: | Oh boy. |
| Neal Page: | Oh boy what? |
| Car Rental Agent: | You're fucked. |
| | |
| --- | --- |
| Car Rental Agent: | May I see your rental agreement? |
| Neal Page: | I threw it away. |
| Car Rental Agent: | Oh boy. |
| Neal Page: | Oh boy what? |
| Car Rental Agent: | You're fucked! |