Terrore nello spazio (Planet of the Vampires)
(1965)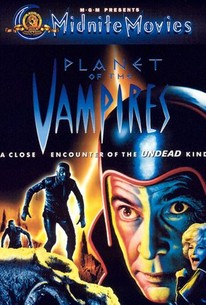 Terrore nello spazio (Planet of the Vampires) Photos
Movie Info
In this spooky low-budget horror outing from Mario Bava, a team of rescuers head for Mars to find missing astronauts and instead find terrifying alien bloodsuckers looking to hitch a ride back Earth to indulge in a sanguineous smorgasbord. The film is also known as Demon Planet.
Critic Reviews for Terrore nello spazio (Planet of the Vampires)
Audience Reviews for Terrore nello spazio (Planet of the Vampires)
A very smartly executed B-movie that fuses space opera with Universal-style horror atmosphere. Director Mario Bava injects a gloomy and foggy atmosphere that would come to influence "Alien" years later. There is a scene that involves people digging themselves out of their graves that is made terrifying by the chilling music score and gritty cinematography. The marvelous cinematography makes even the most basic sets look magnificent and more lavish than what they really are. The spaceship sets are a bit cheesy and some of the characters are given only bare-minimum development outside of their archetypes, but the film is so much fun to watch that these problems only become minor. Although it does perplex me why this was given the title "Planet of the Vampires" in America considering that there are no vampires in the movie.
Christopher Heim
Super Reviewer
½
An atmospheric blend of space opera and horror elements that fits well into Mario Bava's list. Filled with inventive futuristic sets and chic black leather spacemen suits, its' gloomy style most likely influenced ALIEN some 15 years later. As John Carpenter admitted Bava's influence on Halloween, then the notion this film influenced his take on The Thing is hard to resist, especially in contemplating the dark conclusion. Word of warning, there actually aren't any Vampires in this film. If you are looking for Vampires, you will be disappointed when you find none. Perhaps, Planet of the Zombies, or Planet Without Vampires would have been a more appropriate title. Either way, this film is a lot of fun, there just aren't any Vampires.
El Hombre Invisible
Super Reviewer
At first, I was extremely disappointed by the fact that this movie doesn't have any vampires in it, but then I realized that that was the American title, the Italian title says Terror in Space or something, which makes more sense. Other than that, I loved the story in this movie, it's fantastic. Of course, this is a low budget sci-fi movie from the 60s, but it's pretty cool and worth watching.
Terrore nello spazio (Planet of the Vampires) Quotes
There are no approved quotes yet for this movie.