Planet Terror (Grindhouse Presents: Robert Rodriguez's Planet Terror)
(2007)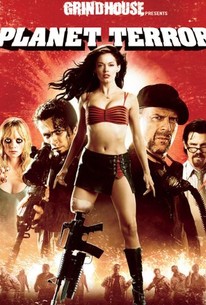 Planet Terror (Grindhouse Presents: Robert Rodriguez's Planet Terror) Photos
Movie Info
Maverick filmmaker Robert Rodriguez details the violent struggle between a ravenous army of zombie-like humanoids who have taken control of the planet and the remaining survivors who refuse to go down without a fight. A dangerous government experiment has unleashed an abominable contamination that turns normal people into murderous mutants. Now, as an infinitely multiplying horde of frenzied psychotics flood the Texas plains, a dangerous outlaw named Wray (Freddy Rodriguez), a sexy stripper named Cherry (Rose McGowan), an unscrupulous smuggler named Abby (Naveen Andrews), and the curiously incapacitated Dr. Dakota Block (Marley Shelton) must try and make their way to the helicopter that could provide their only means of escaping to a place untouched by this nightmarish scourge that threatens to wipe out all of humankind. This nonstop action-horror hybrid originally was released as part of Rodriguez and Quentin Tarantino's ambitious Grindhouse double bill. ~ Jason Buchanan, Rovi
Critic Reviews for Planet Terror (Grindhouse Presents: Robert Rodriguez's Planet Terror)
Audience Reviews for Planet Terror (Grindhouse Presents: Robert Rodriguez's Planet Terror)
Rodriguez' part of the Grindhouse feature is clearly set in his well known crazy universe, with many of his usual cast suspects returning. The movie takes the used look of the B-film rolls somewhat too far, even has an intentional missing reel at the most inconvenient time and quite a lot of color mishaps. It also sets out to reach new records of disgusting scenes, breaking taboos by the minute: children shooting themselves in the head, (disturbingly hot) sex with one legged women, goo shooting from infection wounds and melting penises. That's almost a little much to stomach, but always countered with a similar kind of humor already used in his "From Dusk Till Dawn". But especially compared to that movie "Planet Terror" can't entirely live up to, neither to the more amusing "Death Proof". Still, there is plenty of fun to have with this film as well: It's nice to see Michael Biehn and Jeff Fahey again, there are some great lines and fun moves (especially by the wonderful Rose McGowan). I can't really say I would blame people who find this too disgusting or silly, though. Not for everyone, but the fans get what they demand.
A deadly plague that turns the populace into flesh eating mutants is released into the atmosphere and a band of misfits join together to fight their way to safety. Robert Rodriguez' pastiche of seventies and eighties style schlock horror seemed like a real breath of fresh air to me. The fact that two of its greatest exponents, Sam Raimi and Peter Jackson have been heading further and further down the overlong, sterile, technology orientated road of mainstream cinema makes it all the more ironic. Tarantino and Rodriguez seem to be headed completely in the opposite direction, concentrating on entertainment rather than ego and in this film they deliver just the right blend of tongue in cheek humour, knowing homage and outrageous gore the likes of which I haven't seen since Evil Dead 2. It's half John Carpenter and half George Romero, but manages to ape the films of their heydays to such an extent it surpasses anything either of them has done for a couple of decades. The cast overact their cinematic stereotypes to just the right degree and the gore is amusingly ridiculous in a similar way to Return Of The Living Dead, itself a tongue in cheek semi-sequel to Romero's original zombie film. It'll never change your world, but that's hardly the point. 100% proof pure entertainment.
VERY original, very cool, and very bloody. This and Death Proof make for a perfect pairing. PS.....a machine gun for a leg?! You know you have a winning movie!
Eric Alvarez
Super Reviewer
Planet Terror (Grindhouse Presents: Robert Rodriguez's Planet Terror) Quotes
| | |
| --- | --- |
| Wray: | Don't suppose any of you are biochernical engineers? |
| | |
| --- | --- |
| Tammy: | Need to get to town. It's just a stripped radiator cap. Water leaks as soon as it heats up. No pressure. |
| | |
| --- | --- |
| Cherry: | Where'd you get that? |
| Dakota: | Useless talent #37. |
| | |
| --- | --- |
| Cherry: | You're a doctor'? |
| Dakota: | Yes |
| Cherry: | I wanted to be a doctor. Instead, I can do this. Useless talent #66. |