Play Misty for Me
(1971)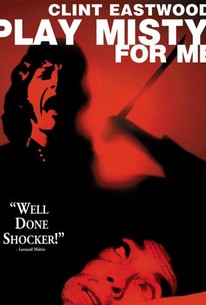 TOMATOMETER
AUDIENCE SCORE
Critic Consensus: A coolly calculating psychological thriller that manages to scare the audience even if it is just using textbook thrills.
Movie Info
Play Misty for Me marked Clint Eastwood's debut as a director, and it gave him the then-unusual opportunity to play a regular contemporary guy in a thriller about sex, obsession, and stalking. Eastwood's Dave Garver is a self-centered California jazz disc jockey struggling with the idea of committing to his on-again, off-again girlfriend Tobie (Donna Mills). One night he meets the mini-skirted Evelyn (Jessica Walters) in a bar, and he goes home with her for what he assumes is a one-night stand. Dave discovers, however, that Evelyn has repeatedly called his show requesting that he "play 'Misty' for me," and she is not about to go gently into the night now that she has bedded him. Even though it touches on the early-'70s flashpoints of sexual liberation, studio execs expressed doubts about why anyone would want to see a movie featuring Eastwood as a deejay. Eastwood reportedly answered that he was not sure either, but he thought it was a good suspense story, and he offered his services as director for free. Play Misty for Me wound up making five times more than it cost and is a precursor to such erotic thrillers as Fatal Attraction (1987) and Basic Instinct (1992). Eastwood mentor Don Siegel appears early on as a bartender. ~ Lucia Bozzola, Rovi
Critic Reviews for Play Misty for Me
Audience Reviews for Play Misty for Me
This is most noted for being the directorial debut of Clint Eastwood, who also starred in it as the protagonist Dave Garver. The film was a good starting point for Clint Eastwood as a director, who would later venture into filmmaking that was bold and original. Here he works as both an innovator and a skeptic, playing with a genre he hasn't yet become aware of, and yet masters with a thoughtful eye. The film itself is not up to par with modern day thrillers because many of the choices are extremely dated and cloying. The choice of character, I thought, was interesting, as it's a nearly philandering jazz disc jockey, who commonly reads poetry in a low growling voice. The scenario is that of a stalking former lover now hell bent on keeping or destroying Dave, who she's obsessed with. In the role of the stalker is Jessica Walter (Arrested Development) who balances between crazed, malevolent psychopath and sweetheart bimbo with a creepy ease. The reason it's not worthy of timelessness is the fact that Dave's character is unlikable and isn't very concerned about the actions of his possible murderer. Even in the thick of the hunt he threatens the leading detective with annoyance, and gives his girlfriend platitudes when she expresses concern. His own insincerity makes the rest of the film anti-climactic and the ending is as empty and restless as the plot. Garvey uses women, and it's almost as if he deserves the wrath of this crazed lunatic. The later film Fatal Attraction, which took many liberties from this, is better done for this significant reason. There was more to lose with that instance, and here Dave can tell others about his troubles, the danger he is imminently in. The ending is also very disingenuous, as it ends with a simplicity that borders on negligence. Stalker films, and crazed female films have come a long way and it's exciting to see this first, tantalizing step.
Spencer S.
Super Reviewer
½
Evelyn: Careful! I might put your eye out.  "The scream you hear may be your own!" An interesting, if poorly dated, thriller. The only reason that Play Misty for Me is a notable film is because it was Clint Eastwood's first directorial effort. If I look at the movie compared to what Eastwood would go on to make; this would be near the bottom. I'm not going to do that though because it would be unfair to this movie. By no means do I think that Play Misty for Me is really good. It has some entertainment value in all of the craziness of Evelyn, but it really isn't that good. As I said, it has dated extremely poor. There are tons of flaws in the film, from the acting to the editing.  Play Misty for Me follows a disc jokey named Dave who meets his number one fan. He hooks up with her, and believes that is all he signed up for. A one night stand is all he expected, but that isn't what Evelyn wants. She starts following him and interfering in his life. By now, we've seen this movie done many times over. It has pretty much been made into a whole new sub genre of thrillers. There are some good ones out there, and there are some piss poor ones out there. This falls somewhere in-between. I didn't think it was terrific, but it also isn't horrible. I'd lean more towards the bad side though. There's just too much wrong with it to overlook.  Looking back, this was a good experience for Eastwood. He got that first film under his belt, and back then it played to audiences well. Today, it just doesn't have that shock value it did then. It also isn't well made enough to still be considered anything other than average, at best. It does a few likable qualities to it though. I especially enjoyed how they pulled the very end of the film together. It made up for a lot of the middles mistakes. Worth the watch for the diehard Eastwood fan, but by no means should you consider this a must watch.
Melvin White
Super Reviewer
The original Fatal Attraction. Still effective, though the soundtrack is slightly dated. Creepy, ominous and thrilling. *NOTE: Maybe it's just me, but I've never seen Donna Mills look this good.
Randy Tippy
Super Reviewer