Play The Game
(2009)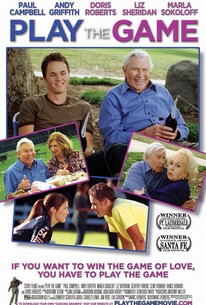 TOMATOMETER
AUDIENCE SCORE
Critic Consensus: Andy Griffith is his usually likable self, but he's stranded in a middling comedy that's surprisingly tasteless and poorly crafted.
Movie Info
A handsome young ladies' man attempts to teach his widowed grandfather the finer points of dating in the new millennium in this comedy featuring beloved television icons Andy Griffith, Doris Roberts, and Liz Sheridan. When it comes to meeting women, David knows every trick in the book. Lately, David (Paul Campbell) has noticed that his grandfather Joe (Griffith) seems more lonely than usual. Joe lives in a retirement community, and though he longs for companionship, it's been so long since he's dived into the dating pool that he's forgotten how to swim. As David begins instructing Joe in the finer points of impressing the ladies, the spry retiree becomes the most popular bachelor in the retirement community. Unfortunately, the girl of David's dreams sees right through his transparent techniques, leaving the young Don Juan to wonder if he's lost his magic touch. Before long, the tables have turned, and Grandpa Joe teaches David that sometimes the best way to win in the game of love is to stop playing games altogether.
News & Interviews for Play The Game
Critic Reviews for Play The Game
Audience Reviews for Play The Game
I really liked this movie!! Who knew that Andy Griffith was gonna turn out to be an hysterical old geezer?! The rest of the cast did a wonderful job, also. The whole thing had me clapping at the end (yeah, I know..I'm a dork!). But seriously, this was a fun, witty, romantic comedy and I would recommend it to anyone.
Cynthia S.
Super Reviewer
Play the Game is about two playas. The first one is David (Paul Campbell), a sleazy car salesman who is your stereotypical man whore who knows all the moves, their counters and counters to said counters. So he will get shown up by a girl before the end of the film. The second player is Andy Griffith. Yeah, Sheriff Taylor. He starts out as your stereotypical old man, but by the end is the Ron Jeremy of the old folks home. It's role reversal, see? Get it? Let's be honest. The only audience for this film are people who are interested in seeing Andy Griffith talking about erections and having oral sex. No, it's not Thelma Lou, it's Seinfeld's mom. If you take that away this film is a badly written, acted, and directed film that is such a cliche it's putrid. But Andy Griffith dresses like P Diddy. Pure crap. Of course the use of Clint Howard as Andy's estranged son is of some importance.
Chris Garman
Super Reviewer
½
CAST: Paul Campbell, Andy Griffith, Marla Sokoloff, Doris Roberts, Liz Sheirdan, Clint Howard DIRECTED BY: Marc Fienberg SUMMARY: A young ladies' man teaches his dating tricks to his lonely, widowed grandfather, and plays his best mind games to meet the woman of his dreams. MY THOUGHTS: It was good. I laughed and cringed quite a bit. Laughed, cause surprisingly it was funny. Cringed cause there are some things these older people do and say that you just don't want to see them or your grandparents doing or saying. But hey, more power to them. LOL. It's worth the rental. But if you got netflix instant play, you can watch it on there like me.
♥˩ƳИИ ƜѲѲƉƧ♥
Super Reviewer
Play The Game Quotes
There are no approved quotes yet for this movie.