Playback
(2012)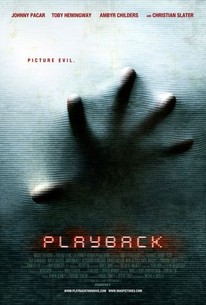 Movie Info
While digging into their town's infamous past, a group of high school students unwittingly unlock an even darker secret. Now, an evil spirit has been awakened and will stop at nothing to find his true heir. -- (C) Magnolia
Critic Reviews for Playback
Audience Reviews for Playback
This is not what one would call a horror classic, to say the least. It's not even what one would call a mediocre horror film. It's, for all intents and purposes, a largely terrible horror film with a somewhat decent idea that it absolutely wasted. To be fair, even if the idea itself had been executed well, let's say a 6 out of 10 in its effectiveness, I don't think the film would've been very good anyway. It's just that everything around it, from the cast, the cinematography, the writing, everything was really working against this film. Let's not kid ourselves, Christian Slater was in this film simply for a paycheck and for the fact that his 'name value' could probably secure some funding for the film. It's very clear that he's there for those reasons and his character, while important in moving the "narrative" forward, isn't exactly necessary. The gore is pretty terrible as well to be honest. It just looks very cheap and B-movie-esque. Not saying that this movie was meant to be taken all that seriously, but there aren't a lot of hints of irony coming from this film, so that's a shame. The acting is pretty much what you can expect from such a low-budget horror film, not very good. It's not that there aren't some marginally talented people in the cast, it's just that the way their performances were directed/edited did absolutely nobody any favors. Nobody's stock improved from appearing in this film, not that it probably would've even if the film WAS good. That's how respected horror films are in mainstream Hollywood, even though it's probably got the most loyal fans of any genre, who are easy to get money out of, apparently. I did like the idea of this man, Harlan's great-grandfather, trying to possess the spirit of his relatives through the use of his films. That's about the only thing I like, that concept, because the execution is stereotypical slasher. I'm not even sure why I gave it one star. It's not like it's the worst horror film I've ever seen, so that's probably part of it. It's still a terrible horror movie and one that I regret watching. Not recommended, obviously.
Jesse Ortega
Super Reviewer
Playback is a B-Horror film that in a sense is nothing more than a new take on the Amityville Horror. Instead of a demon possessing a house, the demon in this film, keeps his spirit alive on videotape, and when someone sees the tape, they become the next possessed killer. The story was entertaining but wasn't really anything new or extraordinary and the same can be said about the cast. The cast, led by The Covenant's Toby Hemingway, wasn't one of the most talented casts I've ever seen, but they may have been the best looking. There are some really good looking people in this film, and believe it or not, it helps to keep your attention. The film is a little dull and predictable at times, but there is always something nice to look at. This movie isn't original and won't shock or surprise you, but it may just entertain you for a couple hours and it will most certainly have your eyes glued to the screen.
Todd Smith
Super Reviewer
Terrible Movie, i didn't even finish it
MisterYoda ?
Super Reviewer
Playback Quotes
| | |
| --- | --- |
| Frank Lyons: | I have all the characteristics of a human being: blood, flesh, skin, hair; but not a single, clear, identifiable emotion, except for greed and disgust. Something horrible is happening inside of me and I don't know why. My nightly bloodlust has overflown into my days. I feel lethal, on the verge of frenzy. I think my mask of sanity is about to slip. |
| | |
| --- | --- |
| Frank Lyons: | You see, my friend, I can't help it if I'm driven by the motives of a stronger youth. |
| Wylie: | Not so, Frank. I feel as though the harpies call me to their den of lies and hatred. |
| Quinn: | Too true, my dear. Now I shall pull back the curtains of deceit on the foul beast called loneliness. |