Wedding Daze
(2006)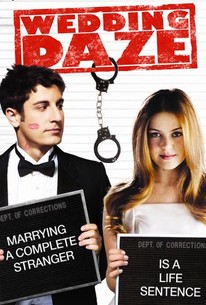 Movie Info
The romantic comedy Wedding Daze stars Jason Biggs as Anderson, a young man all set to ask his girlfriend to marry him when, during the actual proposal, she dies. After spending a year in a depression, Anderson impulsively asks a waitress named Katie (Ilsa Fisher) to marry him even though they have never met. When she surprisingly agrees, the two must deal with the reactions of their respective friends and families. The supporting cast includes Joe Pantoliano as Katie's convict father. Michael Ian Black, formerly of The State and Ed, made his directorial debut with this film.
Critic Reviews for Wedding Daze
Audience Reviews for Wedding Daze
½
Doesn't this have that kinda hot but super annoying so therefore a little less hot than she should be redhead chick from that other kinda funny movie about weddings, except that wasn't really about weddings it was more about the idea of being wed, you know, like a more abstract David Lynchian sort of thing, but then if you think about it, this movie isn't really about a wedding either it's about two people obsessed with marriage... but then that is what wedding crashers was about, huh? okay nevermind, i didn't really care for this one. real complex.
Coxxie Mild Sauce
Super Reviewer
An ok Rom-com, pretty run of the mill, but it does have some good funny scenes. Kinda cute and funny, the chemistry between the two leads is good but the parents are quite funny to. Worth checking out.
I expected this to be worse than it was. Cute, over the top romantic comedy with quite a few laughs. Jason Biggs and Isla Fisher make a likeable couple. You could certainly rent out worse movies.
Nicki Marie
Super Reviewer
Wedding Daze Quotes
There are no approved quotes yet for this movie.