Plunkett & Macleane
(1999)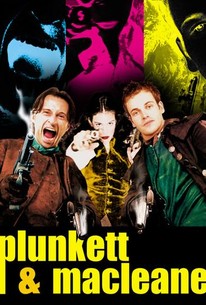 Plunkett & Macleane Photos
Movie Info
A historical comedy that applies a 1990's mindset to a tale of crime in the 1740's, Plunkett and Macleane stars Robert Carlyle as Will Plunkett and Jonny Lee Miller as Capt. James Macleane. Plunkett is a druggist who has gone broke and turned to robbery to pay his bills, while Macleane was a minor member of the aristocracy who has resorted to similar means to support himself. The two meet while serving time in prison, and after comparing notes they set out together for a career in crime. They soon discover they make a good team; Plunkett understands the nuts and bolts of theft well enough, while Macleane has the charm and connections to get them into places where they might find things worth stealing. When Macleane manages to wrangle an invitation to a night of gambling at the estate of Lord Rochester (Alan Cumming), he uses the occasion to his advantage, making the acquaintance of the lovely Rebecca (Liv Tyler) at the party and donning a mask to relieve her of her winnings on the way home. The charm and panache with which the pair commit their crimes give them a widespread reputation as "The Gentlemen Highwaymen," but Rebecca's uncle, Lord Chief Justice Gibson (Michael Gambon) is not amused, and when an especially ruthless lawman, Chance (Ken Scott), is sent on their trail, Plunkett is eager to quit while he's ahead and flee the country. Macleane, however, is too busy wooing Rebecca to listen to reason. Plunkett and Macleane is the first feature film from director Jake Scott, who has a background in commercials and music videos and is now moving forward in the family business -- his father is Ridley Scott, while his uncle is Tony Scott. If you think you've seen leading men Carlyle and Miller together before, you have -- they were also co-stars in Trainspotting.
Critic Reviews for Plunkett & Macleane
Audience Reviews for Plunkett & Macleane
A gentleman who is down on his luck teams up with a peasant highwayman in a plan to identify and rob the effete aristocracy of their ill-gotten gains. Plunkett And Macleane was at the receiving end of a critical savaging upon its release at the tail end of the Britpop era, and is one of the first attempts at geezer-izing history. Since the advent of Guy Ritchie and even, to some extent, Pirates Of The Caribbean, the formula seems a lot more familiar. A bit of a marriage of Richard Lester's The Three Musketeers and Carry On Dick, it's basically a period caper movie that combines three corner hats and duelling pistols with the British love of nob jokes and the decent cast with just the right level of irreverence actually makes it work pretty well. The jokes are a little hit and miss, but there are plenty of now familiar faces to spot in the background (including Matt Lucas and David Walliams of Little Britain fame) and it's quite an enjoyable romp if you don't take it too seriously. Carlyle is charismatic as the no-nonsense highwayman, Liv Tyler looks lovely and Ken Stott is a very hissable villain making for a likeable pantomime that didn't really deserve the mauling it took.
People keep comparing this to A Knights Tale. Knights Tale was sooooo much better. This movie I just found annoying most of the time. Not a bad movie, but just didn't do it for me like most movies set in this time period.
Cynthia S.
Super Reviewer
½
Very generic even though it tries hard not to be. I just found most of what was going on screen very unnecessary and puffy, it was just icing there was no deeper meaning than that.
Marion Ravenwood
Super Reviewer
Plunkett & Macleane Quotes
There are no approved quotes yet for this movie.