Plus Tard (One Day You'll Understand) (Later)
(2008)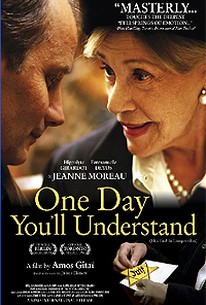 Plus Tard (One Day You'll Understand) (Later) Photos
Movie Info
A middle-aged man studying the Mur des Noms in modern-day France recalls the time 20 years prior when he and his mother were viewing the trial of Klaus Barbie with rapt attention in this introspective drama from director Amos Gitai. The year was 1987, and Rivka lived with her son, Victor, in a disheveled apartment littered with antiques and memorabilia. The opening session in the trial against the so-called "butcher of Lyon" is being televised, and Rivka is struggling to keep her emotions under control as she prepares dinner. Meanwhile, Victor sits in his office attempting to assemble his family tree. But he too is watching the trials, and doesn't seem to hear a word spoken to him by his secretary. As mother and son sit down for dinner together, the mere mention of Barbie's trial is enough to cause Rivka to excuse herself from the table.
Critic Reviews for Plus Tard (One Day You'll Understand) (Later)
Audience Reviews for Plus Tard (One Day You'll Understand) (Later)
[font=Century Gothic]Directed by Amos Gitai, "One Day You'll Understand" is an intelligent, intriguing but not entirely successful movie set in 1987 around the time of the Klaus Barbie trial. Victor Bastien(Hippolyte Girardot) has a personal stake in the proceedings as his maternal grandparents died in the Holocaust while their daughter Rivka(Jeanne Moreau) survived.(It is strange that with a movie like Victor that is so obsessed with personal details, that her survival is never quite explained.) While focusing on beautiful moments and camera movements, there is very little story to speak of. Using the trial as a focus is not a bad idea to explore France's role in the Holocaust, but it was 17 years after the making of the very thorough "The Sorrow and the Pity." It is a shame considering what the movie has to say about identity in the wake of Rivka, of Russian Jewish heritage, marrying into a Catholic family and the effect this eventually has on her children. And like "The Sweet Hereafter," the movie brings up the notion that those who are obsessed with history were never there in the first place, while those who lived through it do not have to be constantly reminded of the fact. For example, Rivka seems particularly comfortable with the antiques she owns. In the end, the past may be a nice place to visit but it is the present where it is best to stay.[/font]
Plus Tard (One Day You'll Understand) (Later) Quotes
There are no approved quotes yet for this movie.