Plymouth Adventure
(1952)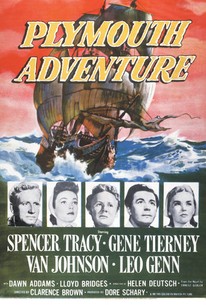 AUDIENCE SCORE
Critic Consensus: No consensus yet.
Plymouth Adventure Photos
Movie Info
Plymouth Adventure earned a footnote in film history as the last directorial effort by the prolific Clarence Brown. Otherwise, this colorful re-creation of the Pilgrims' journey to America is a workmanlike job, never inspired but always interesting. Spencer Tracy stars as bull-stubborn Captain Christopher Jones, who intends to guide the Mayflower to its destination come Hell, high water or any other obstacle. Since Jones is spiritually "wed" to his job, the film's romantic angle is handled by Van Johnson as John Alden and Dawn Addams as Patricia Mullen. Gene Tierney is second-billed as Dorothy Bradford, the ill-fated bride of future Plymouth Colony governor William Bradford. Though the film makes several departures from the facts (there's even a villain!), Plymouth Adventure tells its tale professionally and with satisfactory entertainment value. The film earned MGM artisan A. Arnold Gillespie an Academy Award for best special effects.
Critic Reviews for Plymouth Adventure
All Critics (2) | Fresh (1) | Rotten (1)
Its replica of the Mayflower is accurate, but the story is dull and strays from the truth with its invented romance between the Captain and the wife of the Pilgrim leader
Audience Reviews for Plymouth Adventure
If you're a student of American history this one will certainly make you cringe. Hollywood's fact altering melodrama casts Spencer Tracy as the captain of the Mayflower who, rather reluctantly, is charged with delivering pilgrims to the new world. With a shipload of recognizable faces that include Gene Tierney, Lloyd Bridges and Van Johnson you'd expect this historical epic to be a lauded piece of film history. It is not. There is enough deceit, betrayal and adultery here to rival most soap operas. Tracy's character is so one dimensional, so unlikeable, that the H.M.S. Bounty's Captain Bligh looks rather charming in comparison. Watch this if you must but don't come crying to me when the credits roll. You've been warned!
Randy Tippy
Super Reviewer
Plymouth Adventure Quotes
There are no approved quotes yet for this movie.