Pocket Money
(1972)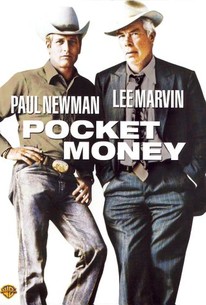 Movie Info
Two modern day cowboys smuggle a herd of cows across the border in this loosely amiable comedy. Jim Kane (Paul Newman) is a cowboy who unexpectedly finds himself deep in debt and in need of some fast cash. A less-than-scrupulous businessman approaches Kane and offers him a handsome payday to escort 200 head of cattle from Mexico into the United States for use of the rodeo circuit. While the deal seems dubious, Kane goes along with it, and persuades his friend Leonard (Lee Marvin) to tag along. However, the cattle drive proves to be more of a challenge than the men expected, with a number of less-than-welcome adventures following the cattlemen along the way. Pocket Money also features Strother Martin, Hector Elizondo and Wayne Rogers; keep an eye peeled for a cameo appearance by Terrence Malick, who wrote the film's screenplay years before directing the acclaimed Badlands and Days of Heaven.
Critic Reviews for Pocket Money
Audience Reviews for Pocket Money
Sean Gillespie
Super Reviewer
½
Great acting from Paul Newman and Lee Marvin as well as directing from Stuart Rosenberg, but this is a complete mess of a story and almost incomprehensible. It's a movie that makes you question if there was ever really a story being told at all. There's a man trying to transport horses and that's really all you can say abut the entire movie, it's difficult just to be so. I think with a better script it would've been something like Hud.
Conner Rainwater
Super Reviewer
Pocket Money Quotes
There are no approved quotes yet for this movie.