Point Break
(1991)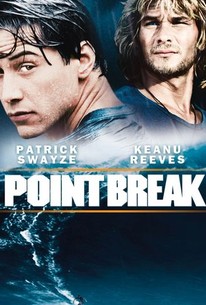 TOMATOMETER
AUDIENCE SCORE
Critic Consensus: Absurd, over-the-top, and often wildly entertaining, Point Break is here to show you that the human spirit is still alive.
Movie Info
Kathryn Bigelow's fourth action film follows FBI agent Johnny Utah (Keanu Reeves) as he goes undercover to infiltrate a cache of Southern California surfers suspected of robbing banks.
News & Interviews for Point Break
Critic Reviews for Point Break
Audience Reviews for Point Break
A fun movie with a memorable performance from Patrick Swayze, but ultimately too silly to fully recommend. Keanu Reeves is mostly in his wheelhouse here, but he has had better performances and is pretty wooden in this. The action sequences are solid and there's enough suspense to keep you interested, but the script and screenplay are let down by outlandish plot elements and predictability. That was ultimately my biggest complaint, but it is certainly well directed by Kathryn Bigelow. If you want a mindless action film with some nice locales and action scenes, you can do worse. Just don't expect Shakespeare.
Josh Lewis
Super Reviewer
[img]http://images.rottentomatoes.com/images/user/icons/icon14.gif[/img]
Directors Cat
Super Reviewer
Before the Oscar winning heights of "The Hurt Locker", director Kathryn Bigelow cut her teeth on some intense and very impressive pieces of work; the brooding western/vampire movie "Near Dark", the stylish and futuristic "Strange Days" and "Point Break, the adrenaline filled action movie that proved a female director could compete with any male in the genre - hands down. A gang of bank robbers known as The Ex-Presidents have been looting the banks of coastal Los Angeles towns. Not much is known about them as they commit their crimes while wearing the masks of presidents Reagan, Nixon, Carter and Johnson. What is suspected is that they are surfers, so the F.B.I send in special agents Johnny Utah (Keanu Reeves) and Angelo Pappas (Gary Busey) to uncover more information. Soon Utah is mixed up with surfing guru Bodhi (Patrick Swayze) and gets drawn into his adrenaline filled, spiritual lifestyle. This film was a real favourite of mine growing up in the early 1990's and still ranks as one of the very best of cop/action movies. Quite simply, where it's strength lies is in some breathtakingly fantastic action scenes and shows that director Bigelow could always compete with the best of them when it comes to staging an action set-piece. The chase scene alone - through the streets by car before going on-foot through alleyways and houses and at one point, the involvement of a pit-bull - is one of the best action set-pieces committed to the screen and Bigelow should be immensely proud. This is also bookended by some excellent close-contact surfing scenes a spot of bank robbery and sublime skydiving. What more could you really want? It's a film filled with testosterone and macho posturing but it's unashamed in it's delivery. It even throws in some light spirituality and Bigelow juggles the elements with a high level of skill. One thing she doesn't have here is restraint but that's entirely the appeal. She's out to set pulses racing and have some fun and that's exactly what she does. If you give yourself over to it, you will too. Of course, the film's lack of restraint throws up some moments when it goes way over the top and stretches credulity to breaking point but it doesn't matter. It's entirely forgivable due to it's sheer indulgment and edge-of-your-seat entertainment. So is the action genre just one for the boys? According to Bigelow, the answer is a resounding... No. She displays such skill and conviction that she crafts one of the most enjoyable action yarns available. It's tagline is "100% pure adrenaline..." and on the evidence, it's not far off it.
Mark Walker
Super Reviewer
Point Break Quotes
| | |
| --- | --- |
| Bodhi: | Fear causes hesitation and hesitation will cause your worst fears to come true. |
| Bodhi: | Fear causes hesitation, and hesitation will cause your worst fears to come true. |
| | |
| --- | --- |
| Bodhi: | You don't trust me? |
| Johnny Utah: | You gotta earn trust. |
| | |
| --- | --- |
| Johnny Utah: | I'M FUCKIN' SURFING!!!!! |
| Johnny Utah: | I'M FUCKIN' SURFING! |