Point Break
(2015)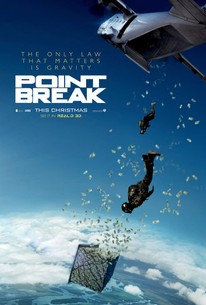 TOMATOMETER
AUDIENCE SCORE
Critic Consensus: Loaded with dazzling action but bereft of purpose, the Point Break remake will be remembered as the first film to make audiences pine for the simultaneous presences of Keanu Reeves and Gary Busey.
Movie Info
An undercover cop makes his way into a scene of bank-robbing extreme-sports atheletes in this remake of Kathryn Bigelow's Point Break. Ericson Core directs from a script by Equilibrium's Kurt Wimmer. ~ Jeremy Wheeler, Rovi
News & Interviews for Point Break
Critic Reviews for Point Break
Audience Reviews for Point Break
Boring and with very uninteresting characters. Rather rewatch the original.
I've never actually seen the original Point Break. I have no idea why, honestly. I've seen bits and pieces of it on TV, but not nearly enough of it to get an actual sense of whether it was good or not. I've always wanted to, I've just never found it anywhere. I'm sure I could get the DVD for cheap on Amazon or Ebay, but it's not a movie I feel I have to own. Anyway, part of me thought that Point Break remake is better than no Point Break. Mind you that this was before I actually saw the damn movie. Now, no Point Break is better than remake Point Break. I don't even know where to actually begin with this movie. I've complained that the Transformers movies have terrible narratives. That fact isn't unchanged. But, while the Transformers have overblown and overstuffed with nonsensical narratives, at least they attempt to have some semblance of reason for why what's going on is going on. I'm going somewhere with this, of course, and that is to point out the fact that the story in this movie is even less than I could have possibly expected. I honestly wasn't really even expecting that much to begin with. So for it to be less than even I expected is quite the accomplishment. And I'm not even sure that's an accomplishment one should really be proud of. I'm sure there's gotta be some really pointless and unjustifiable remakes out there, but this one has to be in the top 5 of completely unnecessary remakes. It literally adds nothing new or that is different enough to justify its own existence. Yes, it updates some elements to where it's now a gang of guy who do extreme sports. Like wingsuiting, rock climbing, snowboarding, surfing insane waves, motorbike, etc, etc, etc. And this film is really a highlight for that. This is really an extreme sports movie with some segments that attempt to be story. Remember that Metallica concert movie that came out a couple of years ago. Of course you don't, nobody fucking saw it. Not even me and Metallica was the first band I ever loved. Anyway they did a concert movie where, after each song or several songs, there was an actual story of a fan, played Dane Dehaan, trying to get to the concert. It had no dialogue, but they told a story. Well imagine that, except they did the same with the sports segments of the film. This is an extreme sports movie with a small narrative sprinkled in there. It is the absolute fucking worst. There's some good sequences here and there, but none of them are actually related to the story. The whole wingsuit scene, while longer than it actually needed to be, was actually fairly exciting stuff. It did get over the type of exhilaration that doing that would actually be. Of course I would never do it, but they do a good job at letting you live vicariously through these characters. And that's another thing, the characters have no real personalities to speak off. I will say that Luke Bracey, who plays Johnny Utah (talk about a stupid fucking name, even for an extreme sports athlete), might have been one of the most wooden actors I've seen in a long time. He might actually be good, but there's only one reason he was cast in this movie and that is because he's a pretty boy. That's the only reason he was cast, let's be honest. Don't fool yourselves, because I'm sure he wasn't the best option available. And, honestly, Luke just doesn't cut it as a leading man. Especially when someone he was close to (IE: that's this film's definition of had sex with once and barely interacted with) someone dies. He doesn't know how to sell the fact that loss. And he swears that he'll bring the leader of the gang in to face justice. So when Utah meets up with Bodhi, the leader, almost a year and a half later to bring him in, what does Utah do? Have on last bro moment with Bodhi and let him go. Yes, really. To set a trap, Bodhi had someone else go in his place, a woman, who then died when she attacked Utah and he defended himself. A woman that Utah, apparently, loved. He goes on this quest to avenge her and bring this criminal to justice. And he just lets him go. What?!?!??! Talk about unsatisfying and flat. It was terrible. Utah waited for over a year and a half for Bodhi to pop up again, he was going after this big ass wave to complete an ordeal that he didn't get to finish the first time, due to saving Utah, and he just lets him GO. Bodhi dies, there's a giant storm going on at the same time, but still. Talk about stupid. Way to end your shitty story. And Utah being let into the gang is also really fucking stupid. Bodhi and his guys knew that this guy was FBI, but Bodhi wanted to change Utah. Really, that's his reason for letting the guy in. He was putting his entire gang in danger, he's exposing them all to prison time and maybe even worse. And he does this because he felt he could change the FBI agent? Holy fucking shit. This movie is a fucking disaster on every conceivable level. There was nothing about it I liked whatsoever. Well, the wingsuit scene was cool, but that doesn't add anything to the movie. And I do love me some Teresa Palmer. But her role was so small and inconsequential that she didn't get to make any actual impact. The wingsuit scene doesn't save this from being an absolutely awful movie. I don't know who out there would enjoy this movie, but I'm sure there's someone out there. I don't want you to explain why you like it to me, but I just can't understand how someone would actually like this. Terrible movie, please don't watch under any circumstances.
Jesse Ortega
Super Reviewer
½
All flash no substance.
Kameron Woodall
Super Reviewer
Point Break Quotes
| | |
| --- | --- |
| FBI Instructor: | Ugly is our job, son. |
| | |
| --- | --- |
| Bodhi: | You have to reach the point.. |
| Johnny Utah: | What point? |
| Chowder: | The point right before you break. |
| | |
| --- | --- |
| Bodhi: | We're all going to die. The only question is how. |
| | |
| --- | --- |
| Bodhi: | The man that pushes the boundaries tends to break. |