Poison Ivy - The New Seduction
(1997)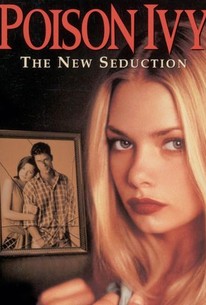 AUDIENCE SCORE
Critic Consensus: No consensus yet.
Poison Ivy - The New Seduction Photos
Movie Info
This third installment in the meretricious Poison Ivy series explores a different branch of Ivy family tree. Jaime Pressly stars as Violet, sister of Ivy, who returns to the home of the Greer family. As little girls, Violet and Ivy were traumatized when they were forcibly taken away from the Greer home and their best friend Joy -- after their housekeeper mother was discovered in an affair with the head of the household, Ivan Greer (Michael Des Barres). Now it's eleven years later and the widower Ivan, his grown-up daughter Joy (Trishalee Hardy) and new housekeeper Mrs. B (Susan Tyrrell) welcome the gorgeous, post-adolescent Violet back with open arms. Just like her sister, however, Violet is a scheming tramp and home-wrecker. She quickly shares cocaine and sleeps with Joy's sexually frustrated boyfriend Michael (Greg Vaughan) and seduces Ivan with a topless dip in the pool. When those around her begin to suspect that Violet has less than honorable intentions, she turns homicidal, murdering the Greers one by one, to Joy's horror.
Critic Reviews for Poison Ivy - The New Seduction
All Critics (4) | Fresh (0) | Rotten (4) | DVD (3)
Susan Tyrrell, an Oscar nominee for her supporting role in 1972's Fat City, offers the most inventive acting as the family's suspicious maid; everything else about this soapy drama is rote and predictable.
Audience Reviews for Poison Ivy - The New Seduction
Heaven help me, I actually kind of enjoyed this one! It got off to a pretty awful start and there was an awful lot of Jaime Pressly naked, (which I guess is a plus if you are a 14 year old boy, but as it is, I spent a lot of time hitting fast forward!). Just when I was thinking there was nothing more to this than a bit of soft porn, it emerges that Violet, (Jaime Pressly), looks like a hooker because she is one, and totally twisted insane with it. I am a sucker for a pyscho chick b grade shocker! By no means a good movie, but if you want something tacky and so bad it's good, this could be the film for you.
Nicki Marie
Super Reviewer
Jaime Pressly is totally goddness-like hot and sexy looking from her several nudity and sex scenes in this standard erotic thriller. (WHISTLE!!) I didn't except to know this film was Pressly's debut movie in her full role as Ivy's older sister. I always try to be objective in my movie reviews but this time I can't. This movie shouldn't be commented for it's plot, score, direction, etc. No. This movie is all about Jaime. People can't ignore the fact that she has a DELICIOUS body to die for. I can't even describe how hot she is. Her face is very sexy but menacing at the same time (which helps a lot for her character). Her performance is great mainly because male viewers fantasize about her.
Dean McKenna
Super Reviewer
½
I've only seen the original one before this and since it was on 'instant que' on Netflix, I decided to give it a go. It wasn't too bad of a movie. It's starring Jaime Pressly who plays Violet, a young woman who returns to the home where she used to live with her mom and another family. Her mother was the maid there and after a certain incident, the maid and her girls were kicked out of the home. The original family still lives there and Violet sneaks her way into the family's life and screw them up slowly.
Poison Ivy - The New Seduction Quotes
There are no approved quotes yet for this movie.