Pokémon 3: The Movie
(2001)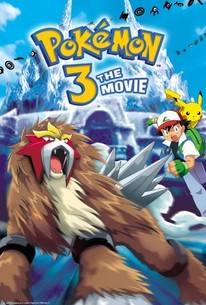 TOMATOMETER
AUDIENCE SCORE
Critic Consensus: Critics say that the third Pokemon movie has a better plot than its two predecessors. This is not enough, however, to recommend it to those not already fans of the franchise.
Pokémon 3: The Movie Photos
Movie Info
In this animated feature, young Pokemon trainer Ash Ketchum and his loyal friends journey to the beautiful mountain town of Greenfield, where they will encounter the Unown, the most mysterious of all Pokemon. It is the Unown that create a challenge for Ash far greater than any Pokemon battle he has ever experienced before. With help from Pikachu and all his faithful Pokemon, plus friends Brock and Misty and even a little unexpected assistance from Team Rocket, Ash must rescue the young orphan Molly from the mystical forces that threaten to transform her life into a dreamworld prison. At the same time, Ash must also struggle to bring his own mother back from the realm of the Unown before she is lost forever and he becomes an orphan himself.
Critic Reviews for Pokémon 3: The Movie
Audience Reviews for Pokémon 3: The Movie
Okay, I'll admit, that this has the weakest characters, but it also leads as being the most eventful of the franchise. It has the most complicated plot as a scientist discovers symbols, linking them to rare undiscovered pokemon. Ante, being the first pokemon found, is probably the most interesting legendary character so far, but there is just something about these films that I find wrong. Movies can only go so far, and with pokemon, they can't even pass the first two with good story.
½
Better, but still weird and depressing
Jim Careter
Super Reviewer
as with every pokemon movie up until destiny deoxys a masterpiece
Michael Edwards
Super Reviewer
Pokémon 3: The Movie Quotes
There are no approved quotes yet for this movie.