Pokémon 4Ever
(2002)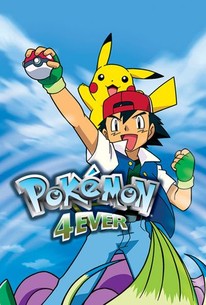 Movie Info
The "pocket monsters" discover new friends and face off against new adversaries in this installment in the Pokemon animated series. Ash Ketchum (voice of Veronica Taylor), his loyal pet Pokemon Pikachu (voice of Ikue Ootani), and several of their friends travel to an island where an especially rare species of Pokemon, Celebi, is said to exist. With the help of friendly Diana and her Grandmother, Ash is able to capture Celebi, and discovers the creature has remarkable powers - bred to defend the forest and the wilderness, Celebi has the ability to travel through time. However, an especially villainous member of Team Rocket, Vicious, is soon after them, and Ash discovers the full extend of Celebi's powers - Vicious is actually a man from the future who has been sent back by Team Rocket trainers Jim and Jesse to battle Ash, while Diana and her Grandmother have also traveled through the years in order to protect Celebi and the forests. Pokemon 4-Ever was the fourth feature-length Pokemon adventure to receive theatrical release in the United States, though other Pokemon features found an audience on home video in America in the meantime.
Critic Reviews for Pokémon 4Ever
Audience Reviews for Pokémon 4Ever
Bradley Wright
Super Reviewer
Pokemon 4ever is probably the safest in the pokemon series, as this films does not serve any new interest to the pokemon films, but does not fail to impress either. As Ash and his pals are on the hunt on a mysterious island for a legendary pokemon, the find it to have mystical powers unlike any other pokemon on earth. This film is the most interesting among the series, but the fact that it steals from other plots points of the past films really doesn't show anything special!
The film begins with a fantastic chase through the forest. The whole forest is beautifully created, and the anime style fits in nicely with the stylized CGI. The plot is fairly simple. A boy saves a time traveling Pokemon and is brought forward 40 years where he meets Ash and co. They must battle a Pokemon hunter that wishes to enslave the super awesome Pokemon. It's a fun movie that actually adds to the relationships of those in the Pokemon universe. Once again it has an obvious eco message, but you also get to see a huge CGI woodland monster type thing, so I ain't complaining. Again, this is just for Poke fans, but may be entertaining enough for those outside their comfort zone.
Luke Baldock
Super Reviewer
Pokémon 4Ever Quotes
There are no approved quotes yet for this movie.