Pokémon Detective Pikachu
(2019)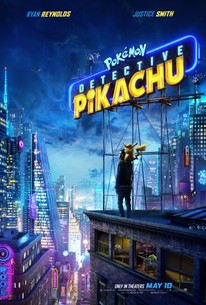 TOMATOMETER
AUDIENCE SCORE
Critic Consensus: Pokémon Detective Pikachu may not take its wonderfully bizarre premise as far as it could have, but this offbeat adaptation should catch most -- if not all -- of the franchise's fans.
Pokémon Detective Pikachu Photos
Movie Info
The story begins when ace detective Harry Goodman goes mysteriously missing, prompting his 21-year-old son Tim to find out what happened. Aiding in the investigation is Harry's former Pokémon partner, Detective Pikachu: a hilariously wise-cracking, adorable super-sleuth who is a puzzlement even to himself. Finding that they are uniquely equipped to communicate with one another, Tim and Pikachu join forces on a thrilling adventure to unravel the tangled mystery. Chasing clues together through the neon-lit streets of Ryme City - a sprawling, modern metropolis where humans and Pokémon live side by side in a hyper-realistic live-action world - they encounter a diverse cast of Pokémon characters and uncover a shocking plot that could destroy this peaceful co-existence and threaten the whole Pokémon universe.
News & Interviews for Pokémon Detective Pikachu
Critic Reviews for Pokémon Detective Pikachu
Audience Reviews for Pokémon Detective Pikachu
It doesn't fully teach me and teach you Pokemon, but Detective Pikachu is mesmerizing with its illustrious world, fascinating creatures and Ryan Reynolds being Ryan Reynolds voicing Pikachu, making for an entertaining delight for fans of the lore. 4.05/5
Eugene Bernabe
Super Reviewer
½
While today's generation may not realize this as much as those who grew up in the 1990s or early 2000s, Pokà (C)mon has been a worldwide phenomenon for quite some time. From portable video games to eventual platform games, the fad of Pokà (C)mon has never really died out. Becoming popular through card games, television shows, and movies, this is a brand that has many attached to it. Although I'm not a die-hard fan as some are, I have played the games, watched the shows and movies, and even played the card game as a kid. For these reasons alone, I may be slightly biased in this review, but I still believe many people can find enjoyment in Pokà (C)mon Detective Pikachu, and here's why. Following Tim Goodman (Justice Smith) after he has been given some gut-wrenching news, returns home, but doesn't expect to bump into a Pokà (C)mon known as Pikachu. These small creatures make very unique sounds and nobody can understand them, but for some reason, Tim can completely understand him. Pikachu, voiced by Ryan Reynolds, is easily the heart and soul of the film, as well as the comedic relief when times seem dour or hopeless. The journey these two take makes for a quite enjoyable little movie, even if the story itself seems a little been-there-done-that. The world itself that surrounds this story is what you should see this film for. From the very first frame, it feels like a realistic setting where these Pokà (C)mon would actually coexist with humans and other life. The world-building here is very well done and I truly hope that a sequel to this film gets the green light, because there is much more to explore. With that said, the premise of this movie is a simple detective story that ultimately may be predictable for some if you're trying to be one step ahead of the protagonists. In the end, the characters and settings themselves made for an enjoyable theatre experience and I was able to forgive the way the story played itself out. Now, this is just me choosing to nitpick the movie as a whole, but I truly don't believe they should have shown live-action Pokà (C)mon to average moviegoers with a movie called Pokà (C)mon Detective Pikachu. With so many classic storylines and characters to explore, I believe easing the audience in with a fun movie about Pokà (C)mon trainers would have been a great bridge to an eventual detective film like this. That has nothing to do with how I felt about this film in general, but it's just something I strongly feel should have been done first. Overall, Pokà (C)mon Detective Pikachu is the first film that was originally based on a video game series that seems to be pleasing the majority of audiences. For that alone, I believe it deserves a lot of praise. With a solid cast, some funny jokes, a world worth exploring, and even a pretty good score with subtle nods to past theme songs for fans of the television show, I feel that I can recommend this film to fans of Pokà (C)mon, as well as newcomers, as there are explanatory moments for those unfamiliar. I enjoyed watching this movie for what it was, which is more than I was expecting to say.
The Pokà (C)mon are soooo adorable! I think that's where most of the budget went to. And maybe to Ryan Reynolds too.
Letitia Lew
Super Reviewer
Pokémon Detective Pikachu Quotes
There are no approved quotes yet for this movie.