Pokémon - Jirachi Wish Maker
(2004)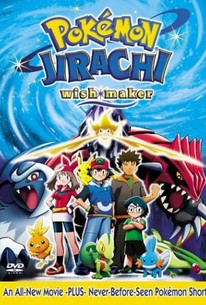 AUDIENCE SCORE
Critic Consensus: No consensus yet.
Movie Info
The sixth Pokémon feature may well rank as the most satisfying entry in the series because the filmmakers avoid the overblown threats of the earlier films. Ash and Brock are joined not by Misty, but by May and her little brother Max, on a trip to a festival. Butler the magician and his assistant Diane introduce them to Jirachi, a wish-granting Pokémon that emerges every thousand years, when the Millennium Comet appears in the sky. Max and Jirachi quickly bond. Butler tries to exploit the energy Jirachi receives from the comet to regenerate an extinct Pokémon. He accidentally creates a monster that Ash, Max, and Jirachi have to defeat, but it's not the kind of world-threatening menace that throw the previous Pokémon features out of balance. Adults may find the film tedious, but Pokémon-playing children will enjoy it. (Not rated, suitable for ages 6 and older: minor cartoon violence) --Charles Solomon
Critic Reviews for Pokémon - Jirachi Wish Maker
All Critics (1) | Fresh (0) | Rotten (1)
You miss the presence of classic characters like Brock or Misty, and their replacements, May and Max, get involved in really annoying situations. [Full review in Spanish]
Audience Reviews for Pokémon - Jirachi Wish Maker
out of all the direct to video sequels this was by far the best, it had the best plot, best drama, best action, and best entertainment value
Michael Edwards
Super Reviewer
This was probably the best Pokemon movie. The music in the background was pretty good as well. Jirachi's voice fit it perfectly and the friendship between it and Max was nice.
Steven Vincent Gee
Super Reviewer
Pokémon - Jirachi Wish Maker Quotes
There are no approved quotes yet for this movie.