Pokolenie (A Generation)
(1955)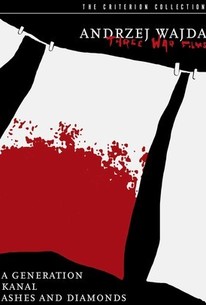 AUDIENCE SCORE
Critic Consensus: No consensus yet.
Movie Info
A Generation is the first of Polish filmmaker Andrzej Wajda's "underground trilogy"-and also Wajda's first-ever feature film. Originally titled Pokolenie, the film dissects the impact that World War II had on the youth of Poland. Tadevsz Lomnicki plays an impressionable young Warsaw resident who falls in love with resistance leader Ursula Modrzinska. The passion they feel towards their cause is inextricably entwined with the intensity of their feelings towards one another. During several crucial moments, the director contrasts the "official" version of wartime events with the actual facts (many experienced first-hand by Wajda), partly as a means of explaining the peacetime disillusionment of so many young Poles. As a result, the film was subject to an overabundance of government interference when it was first released. Watch closely in the Underground scenes of A Generation and you'll spot a young Roman Polanski. ~ Hal Erickson, Rovi
Critic Reviews for Pokolenie (A Generation)
Audience Reviews for Pokolenie (A Generation)
"A Generation" is the first part of director Andrzej Wajda's "war trilogy," but isn't quite as strong as "Ashes and Diamonds" and "Kanal." The setting is Poland under German occupation during WWII. An ordinary-looking lad named Stach gets a job as an apprentice in a woodworking shop, which gives the director a chance to push socialist ideology and emphasize issues of worker exploitation (a standard Wajda concern, apparently). Stach becomes infatuated with a pretty Resistance activist, so he joins up with the underground. Some friends come along for the ride, including a pointy-nosed kid in short pants who has a nicer haircut than everyone else. Yup, it's Roman Polanski. (Have patience - he doesn't enter until about the 45-minute mark.) There's not much else to say about the plot beyond cautioning that if you give weapons to naive youths, there are bound to be complications. The B&W cinematography and stirring orchestral score are much more sophisticated than what's typically found in a director's first feature, and every face seems eloquently lit with perfect subtlety. Also, the opening sequence is a long take, and who doesn't love a movie that begins with a long take? However, the story lacks universality - knowledge of political history seems required - and feels a little thin, even considering the film's modest, 83-minute length.
Eric Broome
Super Reviewer
The first film of Wajda's War Trilogy. It's a very good for Wadja's first film, but there are some amateur mistakes. The story is about a young man who starts out stealing coal from the Nazi's to leading a Polish Resistance. Very good story with great characters. The problem is some of the staging of the action. It is a little awkward and not well planned out.The film is fast paced and can be a little confusing. It is still entertaining and a great effort for a first film.
cody franklin
Super Reviewer
½
The first in Andrzej Wajda's War Trilogy. A Generation tells the story of a group of Communist youths attempting to fight against the Nazis in occupied Poland. Not the most exciting film but the short running time means you don't get bored. Also look out for a very young Roman Polanski.
Pokolenie (A Generation) Quotes
There are no approved quotes yet for this movie.