Police Academy 4 - Citizens on Patrol
(1987)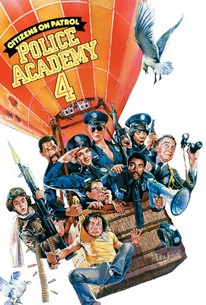 TOMATOMETER
AUDIENCE SCORE
Critic Consensus: Utterly, completely, thoroughly and astonishingly unfunny, Police Academy 4: Citizens on Patrol sends a once-innocuous franchise plummeting to agonizing new depths.
Police Academy 4 - Citizens on Patrol Photos
Movie Info
In the third sequel to the hit comedy Police Academy, Commandant Lassard (George Gaynes) decides that the police force is overworked and understaffed, and he comes up with the idea of recruiting civilian volunteers to work side-by-side with his officers. Of course, with the hapless Carey Mahoney (Steve Guttenberg) in charge of training the new Neighborhood Watch groups, one might reasonably expect things will not go smoothly; meanwhile, the duplicitous Capt. Harris (G.W. Bailey) sets his sights on Lassard's job, and he schemes to get his aging boss out of the way. Series regulars Bubba Smith, Michael Winslow, Bob Goldthwait, and Tim Kazurinsky are on board, as is Sharon Stone, who moved on to bigger and better things a few years later. ~ Mark Deming, Rovi
News & Interviews for Police Academy 4 - Citizens on Patrol
Critic Reviews for Police Academy 4 - Citizens on Patrol
Audience Reviews for Police Academy 4 - Citizens on Patrol
Well here we are again and its back to training...again! Yep this fourth time around Lassard calls on his most loyal men to train up a group of civvies for his new programme 'citizens on patrol'. Naturally the resident bad guy (this time its back to Harris) doesn't agree with Lassard's plan so he and Proctor are out to foil their plans, so dastardly. The idea behind this isn't too bad really, its a bit like special volunteer officers which we have here in the UK. So the general concept is sound, the problem is we are back at the academy focusing on training these new civvies and we're seeing all the same stuff all over again!! To cut a long story short, seeing as I've explained what happens in the academy for the last three film reviews, we see every character doing their unique thing all over again. This means more martial arts from motor-mouth Jones, Callahan is in the pool getting her huge tits wet, Tackleberry is on the shooting range (where else), Sweetchuck gets thrown around the place a lot, Hightower is on voice commands and Mahoney is lurking around the stereotypical blonde bit of fluff and dishing out his good deed speeches left right n centre. Everything in this film is virtually a replay on everything we've seen in virtually all of the last three films. The last three got away with it because they were more adult and the idea was still reasonably fresh, no longer does this apply. The whole film is very boring and extremely childish, on top of that nothing makes any sense now, its just bits n pieces thrown together. Mahoney, Tackleberry and Hightower perform a very elaborate prank on the three young guys simply to prove they aren't ready for the real beat. This whole sequence is completely nonsense, as if you would go to all that trouble for nothing, its total filler that isn't even amusing. There is a fight sequence on a docked ship against some ninjas (!), no idea why this happens or how the officers end up at the docks but hey. I honestly feel they stuck this in simply to utilize Nogata who cameos here, also another martial arts sequence for Jones who appears out of nowhere. He just pops up for this fight from literately nowhere. Add to that a vast amount of terribly cartoonish visual gags, pratfalls, blatantly obvious stunt doubles, terrible audio dubbing and pretty much no actual main plot (accept for the civvy training crap). There is a jail break midway through which serves as the big finale, this time its in the air with hot air balloons and old biplanes. Now I admit its all performed well with nice aerial stunts and whatnot but its so completely ludicrous. Why on earth would they chase the bad guys in hot air balloons? surely you'd just call in police choppers?? how the hell does everyone seem to be a dab hand at flying biplanes?? why am I even questioning a Police Academy flick? I might add that Hightower completely disappears for the last half of the film, odd, Bubba must have had better things to do. This film is quite 'famous' I suppose for a few things, firstly its one of Sharon Stone's early films as she was slowly getting more recognised. Secondly there is a young Tony Hawks in the film showing his skateboarding skills and thirdly there is also a young David Spade as one of the civvy recruits. This is easily one of the worst PA films in the franchise simply because they reuse every old trick and story sequence idea all over again. Yes I know most of the PA films do this but like I said up to this point in the franchise its been reasonably fresh. This just feels terribly dull, uninspired and has some of the worst comedy I've seen, you can't even call it slapstick, its just shit. Goldthwait as Zed is responsible for some of the worst acting, dialog and sequences in this film, not even Bailey as Harris can save this turd. Just to really hammer home the final nail in the coffin, right at the end out of nowhere, Mahoney and Sharon Stone's character are seen floating off together in a customised Police Academy hot air balloon. No explanation about how or where this special balloon came from, its just there, one final silly sequence to really take you out of the moment (if you were in the moment in the first place that is).
Phil Hubbs
Super Reviewer
In my opinion this was the last good movie of the Police Academy series. It's still very funny, got the same actors, and it's fun. I liked it.
I certainly laughed a bit more than I did with the previous sequels. Once again it's all a bit overcrowded, with characters from the previous 3 outings now being mixed together. Bailey is a welcome return as the antagonist, but he is joined by the sidekick of the last two films' villain. This kind of works, as we get the best of both worlds. On top of this we are also given new characters, everyday citizens wanting to help out. This looks interesting at first, with David Spade and a skateboarding buddy forced into the program, but they are soon lost in the background. An entertaining airborne finale is rather impressive as well. So, with Bailey back, and this being Guttenberg's last, this may be a good stopping point for most viewers that made it this far.
Luke Baldock
Super Reviewer
Police Academy 4 - Citizens on Patrol Quotes
There are no approved quotes yet for this movie.