Police Academy 7: Mission to Moscow
(1994)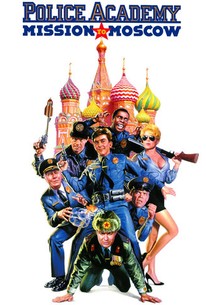 Police Academy 7: Mission to Moscow Photos
Movie Info
In a major stumbling block toward better international relations, America's most laughable police officers are sent to Russia to fight crime in this comedy. In Moscow, master criminal Konali (Ron Perlman) has marketed a new computer game that has an unusual hidden feature -- it allows him to bring down any security system controlled by a PC on which the game has been played, with a string of major robberies as the result. Russian Police Commandant Rakov (Christopher Lee) is at his wit's end about how to deal with the crisis, so he asks for help from the U.S. law enforcement community. However, Rakov's American allies turn out to be Lassard (George Gaynes), Harris (G.W. Bailey), and the rest of the crew from the Police Academy (among them Michael Winslow, David Graf, and Leslie Easterbrook). Claire Forlani also appears in a small role as a Russian beauty. This was the seventh and last film in the Police Academy series, following the departure of franchise loyalist Bubba Smith. ~ Mark Deming, Rovi
News & Interviews for Police Academy 7: Mission to Moscow
Critic Reviews for Police Academy 7: Mission to Moscow
Audience Reviews for Police Academy 7: Mission to Moscow
So Russia finally lets the US of A film in their country around important historical communist landmarks, and what is the first production to gain this honour...Police Academy 7. The first sequence in the film and straight away I notice a huge blooper! The news reporter on TV is playing with a Gameboy (I think), apparently playing a new popular game. On closer inspection, as we get close ups, you notice there isn't actually a game cart in the back of the GB, utter fail in the first five minutes. The plot kinda sounds OK when you think about it, the Russian mafia laundering money under the guise of a highly addictive and popular videogame. The bad guys use this game to be able to hack into any computer system it has been played on, hence they are able to commit many crimes. So Lassard and his best men are brought in to bring down this Russian gang led by a well cast Perlman. The cast for this final outing is sparse, we still have Tackleberry, Jones, Callahan, and Harris, but we are missing many of the regular officers such as Hightower, Hooks, Proctor, Fackler, Nick Lassard and of course old Mahoney. This time without Nick Lassard as the Mahoney replacement, we have another replacement, this time for Nick Lassard! This new recruit looks like a young Matt McCoy (Nick Lassard) but has none of the charm, I'm not even sure why he's in the film really as he pretty much does nothing. That is the whole problem with this film, nothing actually happens. There aren't really any pranks, not many laughs, no training sequences (thank god) and not much plot excitement. There is one amusing sequence where Harris and Tackleberry join in on a Russian ballet performance in full get up, but that's about it really. There are some silly acrobatics from some Russian cops that seem to be mute, a mediocre car chase and a small hint of humour. Not even Harris or his Russian equivalent can help this film. Unfortunately its a poor exit for the franchise with this final film, the last film was quite good at times but this is really dull and not at all visually exciting, its all filmed on location in Russia but it looks grim. Cultural differences are of course used but none of it really works, its just not funny. The fact that Cmdt. Lassard spends half the film AWOL with a Russian family merely by accident just seemed like the writers had no idea what to do with him, he's virtually a cameo. Quick mention for Christopher Lee who looks quite good as the Russian Cmdt. but I have to wonder why he agreed to this bottom of the barrel flick. The final curtain falls on this quite historic franchise but not to a standing ovation I'm afraid, bit of a stinker.
Phil Hubbs
Super Reviewer
The worst sequel of Police Academy and the worst sequel ever produced. How even this movie was made?
Lucas Martins
Super Reviewer
The final nail is hammered into the coffin. Grossing less than $1,000,000 at the US box office and for good reason. The film relies on jokes about the Russians and their accents. Even Hooks, Hightower and Hurst fail to reappear. Gaynes is given top-billing, but is reduced to a "lost in Russia" subplot. Bailey has nobody to play off making his character the downer for the first time. He needs a Proctor to riff with. Lee and Perlman do their best with bad accents, but just aren't interesting. Winslow, Graf and Easterbrook are used too much, making their characters do things we're not familiar with. Schlatter is a kind of Mahoney, but he's never truly likable. Bad jokes, wasted characters, and a sense that nobody cares about what is going on, leaves this film as useless as you'd expect.
Luke Baldock
Super Reviewer
Police Academy 7: Mission to Moscow Quotes
There are no approved quotes yet for this movie.