Polish Wedding
(1998)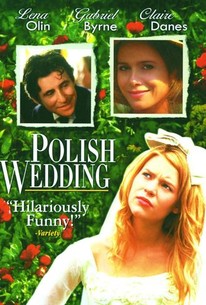 Movie Info
Theresa Connelly makes her directorial debut with her own screenplay, a semi-autobiographical romantic comedy-drama, set in working-class Detroit, about a large Polish-American family run by matriarch Jadzia Pzoniak (Lena Olin). Her four boys obey her, but adolescent Hala (Claire Danes) is rebellious and independent. Although happily married to bakery worker Bolek (Gabriel Byrne), Jadzia engages in an almost-open affair with Roman (Rade Serbedzija). Hala sneaks off for late-night trysts with her handsome neighbor Russell Schuster (Adam Trese), resulting in her pregnancy. After her parents learn the news, Russell is forced to marry Hala, and a big Polish wedding is planned. Shown at the 1998 Sundance Film Festival.
Critic Reviews for Polish Wedding
Audience Reviews for Polish Wedding
Polish Wedding is a largely forgettable movie about a free spirited girl, Hala (Claire Danes), and her earthy, sensual mom, Jadzia (Lena Olin) and sad sack father, Bolek (Gabriel Byrne). Hala runs the streets at night, while her mom is having an affair with a guy at work, and her dad sits at home and mopes. The polish accents sounded forced, and were entirely unnecessary, but must have been meant to emphasize that these people were outsiders. This viewer found them annoying. The story followed a fairly predictable arc and the only thing that kept this viewer engaged was the radiant beauty of Ms Danes. Three stars, just for her.
Mark Abell
Super Reviewer
Cute. Lena Olin and Claire Danes are very good in this.
Sunil Jawahir
Super Reviewer
½
Pretty well done. Loved Danes vulnerability throughout film.
Leigh Ryan
Super Reviewer
Polish Wedding Quotes
There are no approved quotes yet for this movie.