Pollock
(2000)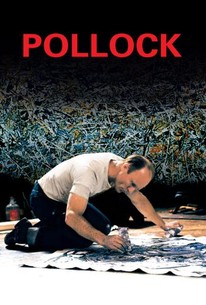 TOMATOMETER
AUDIENCE SCORE
Critic Consensus: Though Pollock does not really allow audiences a glimpse of the painter as a person, it does powerfully depict the creative process. Harris throws himself into the role and turns in a compelling performance.
Movie Info
In August of 1949, Life Magazine ran a banner headline that begged the question: "Jackson Pollock: Is he the greatest living painter in the United States?" Already well known in the New York art world, he had become a household name--American's first "Art Star"--and his bold and radical style of painting continued to change the course of modern art. But the torments that had plagued the artist all of his life--perhaps the ones that drove him to paint in the first place, or that helped script his fiercely original art--continued to haunt him. As he struggled with self-doubt, engaging in a lonely tug-of-war between needing to express himself and wanting to shut the world out, Pollock began a downward spiral that would threaten to destroy the foundations of his marriage, the promise of his career, and his life--all on one deceptively calm and balmy summer night in 1956.
Critic Reviews for Pollock
Audience Reviews for Pollock
½
This was a real labor of love for Ed Harris, who made his directorial debut and takes the lead as the title character. What we get is a semi-standard biopic about renowned American abstract expressionist painter Jackson Pollock who revolutionized the art world in the 1940s, but was undone by his crippling mood swings, temperament, and penchant for booze...and ladies to a lesser extent. Harris is really good and quite compelling in the title role, and there's a sense of legitimacy to the scenes where he is seen painting, especially since Harris learned to paint. He's backed by a solid supporting cast including Marcia Gay Harden in an Oscar winning turn as Pollock's wife and fellow artist Lee Krasner. She pretty much walks away with the film. There's also Amy Madigan as Peggy Guggenheim, Val Kilmer as artist and friend Willem de Kooning, and a late in the game appearance by Jennifer Connelly as Pollock's mistress Ruth Kligman. The film is pretty good, but, like a lot of biopics, suffers from the fact that the subject isn't quite as fascinating as the work they make. Don't get me wrong, Pollock was a very fascinating individual, but the film really doesn't try to deeply probe into his mind, instead just barely getting under the surface a lot of the time. That's okay though, because it is somewhat enjoyable to see him freak out, get drunk, and be a tormented genius. The scenes where he's painting are well done ,and quite evocative, and I dug the music too. I also enjoyed how they tried to bring about authenticity by actually filming on the real Pollock/Krasner estate. The film is fairly by the numbers, but it does a good job at detailing the life and times of this lauded/troubled man. For a directorial debut, it's rather ambitious. Despite its faults, I still liked it, and think you should check it out.
Chris Weber
Super Reviewer
½
A unique, well-directed and acted biopic concerning the troubled artist Jackson Pollock (Ed Harris), his relationship with his wife (Marcia Gay Harden), and how his internal demons cut a brilliant career short. While in some ways it is predictable, including a disturbing final act, the film contains a hypnotic quality about it thanks to an insanely possessed Harris, who is just splendid and you can tell he is very passionate about this particular person. The movie does have a tendency to drift into self-indulgence, especially in it's latter half, but Harris' portrayal remains tenacious and magnetic despite all the problems this movie possesses. We never get to go inside the head of Pollock too much, and this is definitely bothersome, but maybe that's how Harris wants it to be. The ending ends on quite a harsh, rushed note that feels forced, which detracts from one's overall impression of it. Nonetheless, one of the most underappreciated actors ever in Ed Harris is able to flex his creative prowess and go to work, and that alone earns the film a recommendation.
Dan Schultz
Super Reviewer
Flawed, but interesting biopic of Jackson Pollock. Pollock, brilliantly played by Ed Harris is an eccentric abstract painter who revolutionized the art form. His art was simple, avant-garde and revolutionary. Ed Harris delivers a great performance here, and the cast starring opposite him are great here as well. The film could have been done better, and leaves you wanting more, but for what it is, the film does a good job at showing us more of the man that made an impact on Abstract art. This is a good feature debut by actor and director Ed Harris. Harris makes the character his own, and he delivers one of his best performances. I thought that the film was well constructed and had an engaging plot. The cast deliver in their respective parts, and it's what makes Pollock a worthy Biopic to watch. Even with its flaws, this is still a good film that presents the turmoiled life of one of America's artists. Pollock may not appeal to everyone, but to those who enjoy biopics, this is a film worth checking out. The performance by Ed Harris alone makes this film worth watching. This film has a good story, good acting and good directing, what more could you want? Pollock is an entertaining two hours and it showcases Jackson Pollock's turmoil perfectly. Not a great film, but still pretty good for what it is.