Poltergeist II: The Other Side
(1986)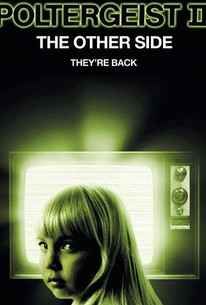 TOMATOMETER
AUDIENCE SCORE
Critic Consensus: They're back, but this hollow sequel retains none of the charm or suspense that made the original Poltergeist such a haunting specter.
Poltergeist II: The Other Side Videos
Poltergeist II: The Other Side Photos
Movie Info
This lesser sequel to Poltergeist provides more special effects-oriented horror as the besieged Freeling family moves to Arizona for peace and safety. Even in their new home, however, they cannot escape the angry ghosts, who return with yet another attempt to kidnap their daughter.
Critic Reviews for Poltergeist II: The Other Side
Audience Reviews for Poltergeist II: The Other Side
I used to be terrified by the sight of Kane when I was a kid, but it is impossible to overlook how insufferably dull, disjointed and pointless this lame excuse for a sequel is, with a lot of bad dialogue, half-baked horror scenes and even some casual racial stereotypes thrown in.
Carlos Magalhães
Super Reviewer
Unnecessary and tired, "Poltergeist II: The Other Side" represented yet another rehash sequel, pretty much copying every beat from the first film, all the way down to "they're back." Yes, that line is actually in the film. The saving grace of this picture is definitely the fact that the entire cast came back and seems to care once again, but the script was a bit too "Hollywood-Sequel" for me to care. The fact that they needed to flat-out show us what is on the other side when they go, was a bit forced and almost like they had nowhere else to take the story. From the characters knowing too much about what is going on, to this sequel not really having any stakes, it was almost too easy of a watch for me. In the end, this is a fine sequel that I will definitely forget about, but I can say they didn't to a terrible job. If you want more of the first film, that is exactly what you will get, and I thought the first was great!
Kane: You're all gonna die in there! All of you! You are gonna die!  "They're back." Poltergeist is a great film and one of my favorite horror films of all-time. Like all great horror films before and after it, there must be sequels. They have to capitalize on successful stuff and I don't mind that. I love watching remakes, prequels and sequels, and most of the time, even if their bad I can still some extent enjoy what I'm watching. That is the case here with Poltergeist II: The Other Side. It is such an awful movie, yet at times I had some fun with it. I liked the explanation of the Reverend Kane, and I just liked the Kane character period. He had such a spooky look to his face and the sound of his voice was frightening to a degree. Aside from that though, this is not the sequel I was hoping for. The same family from the first one moves into another house and yet the same stuff begins to happen again. They still want Carol Anne. The family has to stay together to fight off the evil spirits that want to take Carol Anne. The plot isn't too much different than the first one in those regards, but it does differ, in that the family isn't trying to rescue Carol Anne from another world, but are trying to keep her out. This isn't anything special and is actually a below average horror sequel. That should tell you everything. Think about some of the terrible sequels out there. If you're a fan of the first one, you should still watch this because there are little plot elements that you will probably be able to enjoy. Just don't expect a genre masterpiece like, Poltergeist. Expect something more along the lines of  Halloween 6 quality and you'll be fine.
Melvin White
Super Reviewer
Poltergeist II: The Other Side Quotes
| | |
| --- | --- |
| Carol Anne Freeling: | They're back! |
| | |
| --- | --- |
| Rev. Henry Kane: | let me in |
| Rev. Henry Kane: | Let me in. |
| | |
| --- | --- |
| Rev. Henry Kane: | are you lost sweetheart |
| Rev. Henry Kane: | Are you lost, sweetheart? |