Poltergeist III
(1988)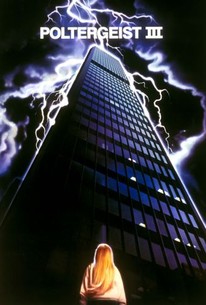 Movie Info
Poor little Carole Anne (played by Heather O'Rourke, who passed away four months before this film's release, thereby fueling the rumor that the film series was cursed, because every time one of the films was released, one of its actors died) is once again tormented by evil spirits in this special-effects laden second sequel to Poltergeist. This time she is living in a Chicago apartment building with her aunt, uncle and cousin and undergoing intensive therapy with a doctor who doesn't believe that she was really abducted by ghosts and forced into the spirit world. Neither does the doctor believe that her evil tormentor from the second film, Reverend Kane, has really come back to get her. Unfortunately, he is dead wrong and innocent Carole Anne is left to deal with the terror alone.
News & Interviews for Poltergeist III
Critic Reviews for Poltergeist III
Audience Reviews for Poltergeist III
Darker than the previous movies but uninspired, repetitious, full of inconsistencies and with characters who always behave in such ludicrous ways - like Nancy Allen's who is initially annoying and selfish at one moment only to completely change her mind right after.
Carlos Magalhães
Super Reviewer
½
In my eyes, all three films are known for their fantastical practical effects. Sadly, with this third and final instalment in this trilogy, "Poltergeist III" offers nothing more than that. When the rest of the cast aside from Heather O"Rourke decide to bail on the film, you know the script was bad, and it really is. When the dialogue begins to run thin, the film turns into the characters shouting "Carol-Anne" in every sentence, to the point of tearing your hair out. This was such a lazy script, even in comparison to the first sequel. Heather O'Rourke tries her best once again, and the practical effects stand-out, but I could not seem to find another positive in this one-location film. With new one-dimensional characters and laughable side characters, this is the most ridiculous chapter in these films yet. By the end, I really did not care what the outcome was, I had checked out about halfway through. It was only 97-minutes which was nice, but it sucks when that is a positive from a film. Lazy all around, it sucks that this is the film that concluded it all.
Son of a fucking bitch. I meant to watch Exorcist 3 not Poltergeist 3. I just sat through this entire piece of suck ass. I didn't realize until it was over that I had mixed up the movie titles. Fuck me. 2 hours of my life WASTED. FUCK YOU POLTERGEIST 3!
Poltergeist III Quotes
| | |
| --- | --- |
| Observer: | Excuse me Dr. Seaton, that little blonde girl keeps staring at the mirror, as if she sees us. |
| Dr. Seaton: | Do you think she can? |
| Observer: | No. |
| Dr. Seaton: | But you think she is staring straight at you. |
| Observer: | Yeah... |
| Dr. Seaton: | That seems to be one of her dubious talents, making people believe things. |