Pom Poko (Heisei tanuki gassen pompoko)
(1994)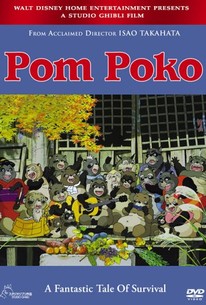 Movie Info
Renowned animation director Isao Takahata spins this tale about a pitched battle between Japanese folkloric figures and housing developers at the edge of the Tokyo sprawl. The tanuki -- a badger-like creature often portrayed with big round eyes, a large Buddha-like belly, and long pendulous testicles resting by its feet -- is a beloved figure in Japanese myth, viewed both as a fun-loving bringer of fortune and a shape-changing trickster. Pom Poko opens with a group of tanuki fighting amongst each other for the increasingly scarce resources of their forest. Soon the group realizes that the real enemy is not their fellow tanuki, but suburban sprawl. Lead by their tough-talking matriarch, Oroku Baba, they use their lycanthropic abilities in a campaign to thwart the developers. Suddenly tarps fall on windshields and obstacles appear before bulldozers, sending the lot careening off the road and into a gulch. Unfortunately, the tide of progress is not that easily turned. Will the plucky tanuki keep their pastoral idyll? ~ Jonathan Crow, Rovi
Critic Reviews for Pom Poko (Heisei tanuki gassen pompoko)
Audience Reviews for Pom Poko (Heisei tanuki gassen pompoko)
½
The most bizarre and "Japanese" Studio Ghibli effort. Ironically, despite featuring shape-shifting raccoon dogs straight from Japanese folklore and their giant testicles, the third Ghibli feature directed by Isao Takahata (Grave of the Fireflies, Only Yesterday) feels oddly un-eventful. Through a coldly dethatched pseudo-documentary style, the story follows the exploits of the raccoon dogs in their efforts to thwart the construction workers and developers that threaten their forest homes through eco-terrorism. If you thought the eco-preservation themes in Miyazaki's 'Nausicaa of the Valley of the Wind' were heavy-handed, then you've not seen this weird creation. Watching this film is almost the equivalent of being hit on the head with a tree branch while the person is yelling "Be kind to the environment!!". However, what's perplexing is that despite the overtly serious environmental themes, 'Pom Poko' is also riddled with goofy cute animal antics and surreal scenes involving gargantuan raccoon testicles (used as methods of transportation and weapons...this movie is weird). What tone is this movie going for? Made worse is the lack of a central protagonist or developed characters, which is shocking for a Studio Ghibli film. At times the raccoon dogs also come off as un-sympathetic. In one scene, the raccoon dogs go into a disturbing laughing frenzy after being told that humans died in one of their latest acts of eco-terrorism. Combine this with constant references to Japanese folklore and being a deep allegory to Japanese history (that requires a college degree in order to understand), plenty has been lost in translation. This entry in the Studio Ghibli catalogue may be a weak link but there are still some redeeming factors. The animation is once again great and the sequence involving the raccoon dogs transforming into different forms in order to scare the nearby townsfolk is a definite highlight. The production value is almost enough to make this flick watchable but even then it's hard to get past the film's weak narrative that never feels like it takes-off and jarring shifts in tone. I admire the film's originality and daringness but in the end it just has too much working against it.
Christopher Heim
Super Reviewer
½
I love Studio Ghibli. This was a huge disappointment. From the moment it started I knew it was going to be a poor effort from an exceptional studio. It was headachingly preachy and condescending from the very beginning. Princess Mononoke was able to evaluate the relationship between man and nature without coming off as educational seminar. In Pom Poko, we are given facts and figures and diagrams and highly obvious visual "metaphors". The entire film is a mess of wrongfully judged tonal shifts. Yes, it was brave to have the raccoons kill the humans, but it's attempt at comedy and cuteness it severely misjudged. The whole film is narrated over in a very lazy fashion. The film is pretty much told to us, without any attempt at creativity or visual imagination. There are no lead characters to connect with, making these raccoons as bad as the humans they fight, if not worse. There are also a lot of awkward moments involving male raccoons forcing themselves upon the females, and testicles that can morph. These testicles are used as humor but are simply not funny. It's an awkward movie with an obvious message, handled with none of the charm, passion, nor humanity, that I've come to expect from Ghibli.
Luke Baldock
Super Reviewer
Gotta love those crazy raccoons!
Pom Poko (Heisei tanuki gassen pompoko) Quotes
There are no approved quotes yet for this movie.