POM Wonderful Presents: The Greatest Movie Ever Sold
(2011)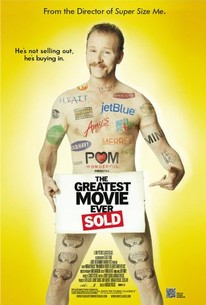 TOMATOMETER
AUDIENCE SCORE
Critic Consensus: The Greatest Movie Ever Sold plays smartly to Spurlock's strengths, and the result is a breezy, albeit not particularly enlightening documentary.
POM Wonderful Presents: The Greatest Movie Ever Sold Photos
Movie Info
Director Morgan Spurlock (Super Size Me, 30 Days) examines the increased proliferation of branding in every aspect of our lives while attempting to persuade big-name brands to sponsor his irreverent exposé. Companies love to push their products, and it seems like everywhere we go, someone is trying to sell us something. But have you ever wondered what goes on behind closed doors at some of the biggest advertising agencies in the world? In this eye-opening documentary, viewers follow Spurlock as he convinces a variety of high-profile sponsors to let him pitch their products as "The Greatest," while still maintaining complete control over his creative vision -- an arrangement that's become increasingly rare in the high-stakes entertainment industry. ~ Jason Buchanan, Rovi
Critic Reviews for POM Wonderful Presents: The Greatest Movie Ever Sold
Audience Reviews for POM Wonderful Presents: The Greatest Movie Ever Sold
Another exhibition for Morgan Spurlock to shock and awe, this film does an impressive job of showing the groveling of getting sponsors for big budget blockbusters, and the reach of advertising within the film and television medium. The first section of the film is slow and meandering as it describes the entire plot to the rest of the film, which doesn't sound all too exciting either. His meetings with companies, relentless phone calls, and profiteering off of profiteering wasn't all too new or riveting. Spurlock is entertaining when it comes to fleshing out his ideas for his films and television shows,. Still, there is this smugness that comes off him in waves, and really he's the face of the documentary, though it just as easily could have been solely about the subject matter. The use of product placement and tie-ins, footage from commercials and interviews, and Spurlock selling himself while questioning his own motives was insightful and gave us the flawed perspective of the real artist minds behind the view of product placement and vertical integration within films. The best aspects of the film were when Spurlock directly interviews directors, bands, and shows just how far the outreach of commericalization has gotten to the masses in every kind of media. The humor in it was often underplayed compared to the trailer, but works well with Spurlock. It's his ease that sells the film, his huge hand in the direction and production evident from his ideas for commercials within the film, his performance a true salesman in action. Really it made me think about how often dialogue is forced and situations are faked for money. It also got me to see what POM was, and now I want to try it ever so badly.
Spencer S.
Super Reviewer
Ralph Nader: You can satirize and spoof yourself out of your objective. Out of this film may come a transformed, commercialized, corporatized Morgan Spurlock. And you'll never be able to shake that identity. That's your peril. That's your challenge.
Matt Goodman
Super Reviewer
Very interesting if you're interested in the subject, but it's more "calls attention to the issue" than "explores it in depth"
Ken Stachnik
Super Reviewer
POM Wonderful Presents: The Greatest Movie Ever Sold Quotes
| | |
| --- | --- |
| Morgan Spurlock: | The goal of the whole film is transparency. You're going to see the whole thing take place from beginning to end. |
| Morgan Spurlock: | The goal of this whole film is transparency. You're going to see the whole thing take place from beginning to end. |
| | |
| --- | --- |
| Ralph Nader: | You can satirize and spoof yourself out of your objective. Out of this film may come a transformed, commercialized, corporatized Morgan Spurlock. And you'll never be able to shake that identity. That's your peril. That's your challenge. |
| Morgan Spurlock: | Well. Have you got have a pair of these? (holds up a pair of Merrell brand shoes) |
| Ralph Nader: | Oh, they're giving you products now? You're going to be completely clothed with their products now. |
| Morgan Spurlock: | Absolutely. And this is a fantastic shoe. |