Ponyo
(2009)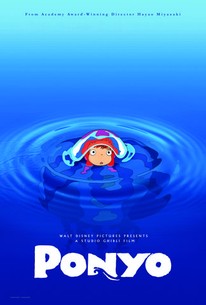 TOMATOMETER
AUDIENCE SCORE
Critic Consensus: While not Miyazaki's best film, Ponyo is a visually stunning fairy tale that's a sweetly poetic treat for children of all ages.
Movie Info
Acclaimed anime master Hayao Miyazaki returns for his ninth animated feature with Ponyo, which deals with a friendship between a five-year-old boy and a goldfish princess who yearns to be human. The daughter of the king of the ocean, Ponyo is no ordinary goldfish -- she has all the magic of the sea at her disposal. But when five-year-old Sosuke befriends the spunky little fish near the seaside home he shares with his mother and father, a special connection sparks between the two children, and Ponyo becomes determined to become human. Transforming into a little girl, Ponyo shows up at Sosuke's doorstep, delighted to make herself at home with her new land-dwelling family. But having a magical fish princess walking around on dry land begins setting the mystical balance of the world off kilter, and even though the innocent love Ponyo feels for her dear friend is strong, it will take some help from the greatest powers in the ocean to make things right again. ~ Jeremy Wheeler, Rovi
News & Interviews for Ponyo
Audience Reviews for Ponyo
½
A very adorable and visually beautiful hand-drawn animation by master Hayao Miyazaki, who goes for a more innocent and simpler approach to tell this story instead of delivering an epic of environmental message like some of his more memorable works.
Carlos Magalhães
Super Reviewer
Welcome To A World Where Anything Is Possible. Great Animated Film! The film is simultaneously stunning in its beauty and endearing in its simplicity, unrestrained enthusiasm walking the edge between inspired brilliance and mind-addling delirium. At its core, its about love, that between the family members of Koichi, Lisa and Sosuke, and especially between mother and son. More so, it's about the love between the boy and his new pet fish which he christened Ponyo, and I tell you Ponyo herself has enough cuteness in her to beat the likes of Bolt, WallE and Eve all hands down. Characterization here is top notch, and it's hard not to fall in love with Ponyo, in whichever form adopted, especially when she's such a playful being who doesn't hide her emotions - if she's upset with you, either she turns away or you could expect a jet stream come spewing from her mouth into your face! Like a modern day fairytale, the film tells a timeless story of friendship and love that will surely be cherished in years to come. The son of a sailor, 5-year old Sosuke lives a quiet life on an oceanside cliff with his mother Lisa. One fateful day, he finds a beautiful goldfish trapped in a bottle on the beach and upon rescuing her, names her Ponyo. But she is no ordinary goldfish. The daughter of a masterful wizard and a sea goddess, Ponyo uses her father's magic to transform herself into a young girl and quickly falls in love with Sosuke, but the use of such powerful sorcery causes a dangerous imbalance in the world. As the moon steadily draws nearer to the earth and Ponyo's father sends the ocean's mighty waves to find his daughter, the two children embark on an adventure of a lifetime to save the world and fulfill Ponyo's dreams of becoming human.
½
A cute, magical, and visually enthralling 'The Little Mermaid'-esque fairy tale from the master himself, Hayao Miyazaki. A sweet and invigorating ride for all ages.
Christopher Heim
Super Reviewer
Ponyo Quotes
| | |
| --- | --- |
| Lisa (English Version): | So, what's your mother like? |
| Ponyo (English Version): | She's big and BEAUTIFUL!!! But, she can be very scary. |
| Sosuke (English Version): | Just like my Mom! |
| | |
| --- | --- |
| Gran Mamare (English Version): | (upon seeing Ponyo) Ugh! it has a real face on it! Throw it back into the sea before it causes a tsunami! |
| Gran Mamare (English Version): | [upon seeing Ponyo] Ugh! it has a real face on it! Throw it back into the sea before it causes a tsunami! |
| | |
| --- | --- |
| Ponyo (English Version): | HAM!!!! |
| Ponyo (English Version): | HAM! |
| | |
| --- | --- |
| Ponyo (English Version): | [Holding out sandwiches to woman on boat] Here, take these! |
| Sosuke: | She already ate all the ham out of those. |