Poor Cow
(1967)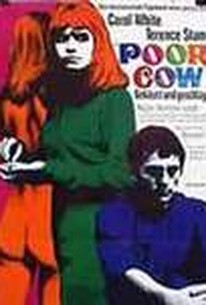 Movie Info
Young mother Joy is forced to fend for herself when her brutal and uncaring husband, Tom, is put in jail. Joy finds brief happiness with Tom's criminal associate Dave, who proves kind and gentle when she moves in with him, but this relationship ends when he is also jailed, and Joy is left to raise her young son alone in squalid circumstances.
Critic Reviews for Poor Cow
Audience Reviews for Poor Cow
Director Ken Loach's first feature is an insightful but somewhat shapeless portrait of a vivacious young woman (Carol White) struggling to raise a baby in a dingy English neighborhood. Within the opening minutes, her husband is sent to prison after a bungled robbery. She soon latches onto a second man (Terence Stamp) but, unfortunately, he too has been pressed into a life of crime. He is more sensitive to her needs but also is sentenced before long, which means Stamp fans may be frustrated with his lack of screen time. From there, our heroine takes a job in a rowdy pub, dabbles in cheesecake modeling and tries to fill her relationship void with casual lovers. There is no moral lesson here -- this is just how a woman on her own manages to stay afloat. The story fades out inconclusively. Donovan provides a few tunes for the soundtrack (Stamp himself sings "Colours"), and various other pop songs are heard throughout -- almost as if a crew member's transistor radio is randomly playing in the background. The effect is a bit ragged, and further shaky elements include the girl's sporadic narration, an odd decision to close with a documentary-style interview and some awkward title cards that rarely add useful information. The lighting often seems too warm and pleasing for the story's gritty tone, but an initial childbirth scene and an overgenerous amount of toddler nudity add some controversy. "Poor Cow" usually gets lumped with its era's "kitchen-sink" movement, but there are much better examples of the genre to seek out.
Eric Broome
Super Reviewer
½
Interesting older movie. Main character, Joy, manages to be equally sympathetic and unlikeable! You watch this girl make one bad choice after another, yet the consequences aren't quite as bad as you are waiting for. In one way it is good, she is a stupid girl, but you can't seriously wish bad on her, even when she kind of deserves it. On the other, you wait for a culmination of her actions which doesn't quite pay off. I guess it is lifelike in that way. On a shallow note, I enjoyed the 60's hair and make up. Very glam too look at, even though the story was definitely not!
Nicki Marie
Super Reviewer
Poor Cow Quotes
There are no approved quotes yet for this movie.