Pootie Tang
(2001)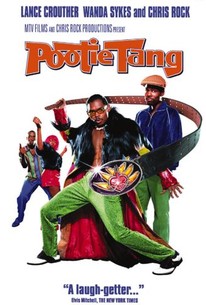 Movie Info
Cool guy Pootie Tang is a crime-fighting recording artist. Despite the fact that his strange style of speech is understood by only a select few, he becomes a hero to the children he protects.
Critic Reviews for Pootie Tang
Audience Reviews for Pootie Tang
½
Pootie Tang is quite possibly one of the dumbest movies I've ever seen. I'm talking dumb as a bowl of mice dumb and I laughed my ass off at this movie. I would've loved to see a raunchier R-rated version but watching Wanda Sykes dance (and just Wanda Sykes in general) more than made up for that. Pootie Tang also cements my belief that Louis C.K. is a genius. It's a quick watch. Just see it.
Michael Gildea
Super Reviewer
Why haven't I reviewed this movie yet? I've seen years ago, and it still makes me smile when I think of it. Looking through other Flixter reviews, it seems people love this movie, but are afraid to give it a good rating. "Stupid..." they rant, ..."but can't help but laugh". I'm sorry, but if a comedy makes you laugh, doesn't that make it good? Cast off your fears of social persecution! Embrace Pootie Tang!
Tim Barker
Super Reviewer
This movie is stupid, ridiculous and completely moronic. ...and yet, I find myself laughing hysterically every time I see it. Why God, why?!?!?
Randy Tippy
Super Reviewer
Pootie Tang Quotes
| | |
| --- | --- |
| Pootie Tang: | Pootie Tang don't wa-da-tah to the shama cow, 'cause that's the cama cama leepa-chaiii, dig? |