Popcorn
(1989)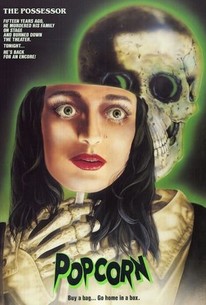 Movie Info
In this off-beat horror outing, a band of film students decide to scare up some cash by holding a film festival celebrating horror films from the '50s. Its all great fun until they discover that the projectionist is a homicidal maniac. Gory violence ensues as audience members begin dying in horrible ways.
Critic Reviews for Popcorn
Audience Reviews for Popcorn
Wow, this is a bad movie. But really who comes into a horror movie expecting great thespian heights! Popcorn is full of bad acting and even worse bad story! But it does have Mr. Hand from Fast Times at Ridgemont High, oh and it had some really unintentional funny parts. The only problem that I have is, this storyline has been done before. A lot. A group of high school students band together to reopen a theater and have a Horror Movie Marathon on Halloween, the proceeds going to the High School of course. One dude though, has it out for one of the students and wreaks havoc over the entire theater. Oh did i mention that the Movie Marathon is all 50's schlock horror with gimmicks; Mosquito is in 3D (with a giant mosquito), The Electrified-Man is in Shock-o-Vision with buzzers on the seats, and The Stench is in Smell-0-Vision!!! But I heard that you have to be careful for Possessor its the one that will kill ya! I had fun watching this, of course I was a few beers in and could stand a movie this horrid. I would have to give Popcorn 4 out of 10. It tickled a few of my funny bones and really tried to scare me but just didn't deliver. Good try. The director was in Porky's (that's right the movie with a dick in a wall) S!D
Brandon Siddall
Super Reviewer
½
The psychopath was brilliant.
vieras esine
Super Reviewer
½
Pretty Cool Movie, Makes me want to go out and buy a movie theather. I would set it up same way as this film, would be fun. Anyway its a spoof / Comedy Horror Flix. Then man from My Favorite Martin is in this I beleive. Semi Good on the hacking up, Great Make up on Toby. Worth the Rent, Only Serious Collectors would add it to there shelf.
Bruce Bruce
Super Reviewer
Popcorn Quotes
| | |
| --- | --- |
| Hatchethead: | whoa thats brutal man |
| Hatchethead: | Whoa that's brutal man. |
| | |
| --- | --- |
| Hatchethead: | we are all the same person running around in each others bodies. |
| Hatchethead: | We are all the same person running around in each others bodies. |