Popstar: Never Stop Never Stopping
(2016)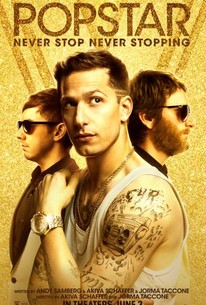 TOMATOMETER
AUDIENCE SCORE
Critic Consensus: Popstar: Never Stop Never Stopping updates the rock mockumentary for the 21st century mainstream -- and hits many of its low-hanging targets with side-splitting impact.
Popstar: Never Stop Never Stopping Videos
Popstar: Never Stop Never Stopping Photos
Movie Info
Universal Pictures' Popstar: Never Stop Never Stopping is headlined by musical digital-shorts superstars Andy Samberg, Akiva Schaffer and Jorma Taccone, collectively known as The Lonely Island. The comedy goes behind the scenes as singer/rapper Conner4Real (Samberg) faces a crisis of popularity after his sophomore album flops, leaving his fans, sycophants and rivals all wondering what to do when he's no longer the dopest star of all. The latest comedy from blockbuster producer Judd Apatow (Trainwreck, Superbad, Knocked Up) co-stars Sarah Silverman, Tim Meadows and Maya Rudolph and many of the biggest names in comedy and music in cameo performances. Co-directed by Schaffer and Taccone and written by The Lonely Island trio, POPSTAR is also produced by Rodney Rothman (producer of Get Him to the Greek, Forgetting Sarah Marshall; co-writer of 22 Jump Street), as well as Samberg, Schaffer and Taccone.
News & Interviews for Popstar: Never Stop Never Stopping
Critic Reviews for Popstar: Never Stop Never Stopping
Audience Reviews for Popstar: Never Stop Never Stopping
Popstar: Never Stop Never Stopping takes the genre of a rockumentary to a different level. The film's outlandish gags and humor along with its sleek and constructed direction is a surprisingly effective and hilarious parody on the music and entertainment industry that only the Lonely Island & Judd Apatow could spice up. 4/5
Eugene Bernabe
Super Reviewer
Perhaps for someone who is more engrained in the pop culture of the day, this would be a success. It's not that I didn't understand the references, it's just that I didn't care.
Of all the films to spoof reality throughout the years, Poster: Never Stop Never Stopping stands above the rest for one very specific reason; It feels fresh. Playing out as a Mocumentary to start and evolving into a straight up narrative film at times, the uniqueness of this film delivers in spades. Taking elements from films like Michael Jackson's This Is It, or Justin Beiber's Never Say Never, this film exploits the music industry for what it truly is, all while telling a surprisingly compelling story about its main protagonist, Connor (Andy Samberg). While Poster: Never Stop Never Stopping will not be remembered as one of my favourite films of the year, it is certainly one of the biggest surprises. Ever since their hilarious music videos became a huge success on Saturday Night Live, Andy Samberg, Jorma Taccone, and Akiva Schaffer, along with the rest of the Lonely Island crew, have continued to please fans to this day. Although they probably do not have the fan base to bring people out the theatre (as seen by their very disappointing 10 million dollar domestic gross), it is without question that they put in 110% of their effort into making a very funny film with just enough heart teetering on the edge of cheesy. The Lonely Island crew is what truly made this film what it is. Sure, all of these actors are funny and the film has some pretty awesome cameos, but just how funny is it? A great comedy is based on the set up and payoff, and I have to say that everything they set up throughout this film is paid off in the climax. Delving into the downward spiral of an artists low point, while still being hilariously true-to-life with the jokes and references, Poster: Never Stop Never Stopping is a much smarter and more caring film than one might think. I was laughing pretty hard throughout and the chemistry between these three actors is electric on-screen. I had an absolute blast watching their banter, and once the film delivered its endless amount of cameos, I had a giant smile on my face. Although I loved watching this film, it is not all sunshine and rainbows. At a mere 87 minutes, you'd think that a film such as this would fly by fairly quickly, but having the style that it does (mostly interviews, cameos, and flashbacks), it does suffer a bit from the let's-get-moving syndrome. I felt myself laughing, while still wishing the film would move at a quicker pace, but that may just be a personal flaw that I have. It is a very, very short picture, so if you are able to accept a bit of downtime throughout, you may just end up living every second of this film, if you already enjoy this type of comedy. In the end, this is a difficult comedy to recommend, due to the fact that its comedy is definite subjective. If you weren't ever a fan of Saturday Night Live when these actors were present, you may not find this film all that funny. On the other hand, there is enough of a compelling story to keep average moviegoers engaged in it, so it does benefit from that. For myself, I do enjoy these actors and everyone who cameos throughout, so I will always give this film a glowing recommendation. I laughed pretty hard throughout and was compelled by the transformation of its lead character. Poster: Never Stop Never Stopping will not win any awards, but it is a very, very good comedy nonetheless.
Popstar: Never Stop Never Stopping Quotes
| | |
| --- | --- |
| Conner: | That's a third of the way to Mars! |
| Harry: | Conner, for the last time, Thirty Seconds To Mars is the name of a band, not a fact. |
| | |
| --- | --- |
| Conner: | Ever since I was born, I was dope |
| Conner: | Ever since I was born, I was dope. |
| Tilly: | True that |
| Tilly: | True that. |
| | |
| --- | --- |
| Conner: | You know it takes a village to make me look dope. |