Porco Rosso (Kurenai no buta)
(1992)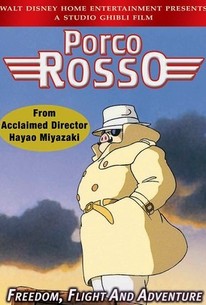 Movie Info
Master animator Hayao Miyazaki directs this tale about a former World War I flying ace who is also a pig. Slouching toward middle age, Porco Rosso makes his living by flying about in his bright red bi-plane and fighting sky bandits who prey on cruise ships sailing the Adriatic. When he's not engaging in dogfights, this porcine pilot lives on a deserted island retreat. Porco Rosso was once a strapping young man, but after his entire squadron was wiped out, he was mysteriously transformed into a pig. Rosso is defeated in a dogfight against a dashing American rival, who has been hired by the dastardly bandits. With his plane damaged, he finds a repair hangar near Milan run by an aging mechanic named Piccolo, and his spunky granddaughter Fio. Initially skeptical of her mechanical prowess, Rosso is amazed when she and a legion of local women fix his plane. Soon, Porco Rosso is ready to battle his rival. ~ Jonathan Crow, Rovi
Critic Reviews for Porco Rosso (Kurenai no buta)
Audience Reviews for Porco Rosso (Kurenai no buta)
Miyazaki's loving tribute to early aviation. The story is more male-oriented, straightforward, and based in reality (set between the two World Wars) than some of his other works, but still retains that vintage Miyazaki magical feel that we all know and love. The title anthropomorphic pig (who ladies strangely fawn over) and his sidekick, a young mechanic girl named Fio, make for a greatly fun duo and play off each other nicely. Miyazaki really demonstrates his love for planes and there is a breathtaking fantasy sequence involving a fleet of planes flying above the clouds that alone makes the film worth a one-time viewing. It's not as profound as some of his other works like 'Spirited Away' but it still works wonderfully as a nice undemanding action/adventure, although it is admittedly far from his best work. The first hour of the film was excellent but the climax was pretty weak (sinfully teasing at an epic airplane fleet battle that never takes place) and the closing epilogue narration felt extremely rushed (also contains a gimmicky "The end?" line that you'd think Miyazaki would be above at doing). Despite a weak ending, 'Porco Rosso' remains a quality effort from the master himself.
Christopher Heim
Super Reviewer
½
Miyazaki indulges himself in his passion for seaplanes with this very enjoyable project of most personal interest, an always entertaining film that benefits from a beautiful soundtrack, a spot-on sense of humor and, even better, a lot of heart.
Carlos Magalhães
Super Reviewer
½
the first hour of this film make up one of my favorite hours in cinematic history. the story is sleek and imaginative, the animation as great as one would expect from a ghibli film, and the characters overwhelmingly compelling. the final 30 minutes fall apart for me almost completely. i still think the final act is ok, but is so far below the standard set by the rest of the movie. it becomes more juvenile, more silly, and far less compelling, and it takes the film down quite a bit. overall i really do love this film and believe it to be worth multiple viewings for the first hour alone.
Porco Rosso (Kurenai no buta) Quotes