Pork Chop Hill
(1959)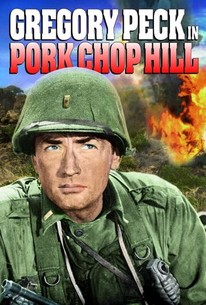 Movie Info
Pork Chop Hill was based on the eyewitness essays of ex-soldier S. L. A. Marshall. The film is set during the Korean "police action." While diplomats argue pointlessly over the shape of the negotiation tables at Panmunjon, United Nations troops bleed and die. Lieutenant Gregory Peck leads a 135-man unit on the attack of the Chinese-held Pork Chop Hill. When reinforcements finally arrive, only 25 of Peck's men survive (and they aren't the usual survivors we've come to expect from earlier, cliché-ridden war films). Among the American troops are such dependable performers as Harry Guardino, Woody Strode, Rip Torn, Barry Atwater, George Peppard, Robert Blake and Martin Landau. Former cowboy-star Bob Steele also shows up briefly as an American general. According to director Lewis Milestone, Pork Chop Hill was cut by nearly twenty minutes because the wife of star Gregory Peck felt that her husband made his first entrance too late into the picture. True or not, the film does show signs of post-production tampering, with flashes of several excised scenes showing up under the main title credits.
Critic Reviews for Pork Chop Hill
Audience Reviews for Pork Chop Hill
½
A company of American soldiers stationed in Korea suffer terrible losses when ordered to take a strategically unimportant hill from Chinese forces. Pork Chop Hill was directed by Lewis Milestone who was no stranger to the genre having directed the classic All Quiet On The Western Front and here he pretty much invented the modern war movie. Influencing everything from Zulu to Black Hawk Down, its power is in its gritty realism and unrelenting depiction of terrifying and seemingly meaningless violence. It was based upon real accounts and written by a veteran soldier which gives it a real authenticity and is very unsentimental in its representation of the soldier on the ground, avoiding the usual soap opera back stories of the central characters. Instead it jumps straight into the action and virtually the entire film is set in the blood soaked trenches. Woody Strode's sole dissenter adds a mild socio-political element which was expanded on the great effect in the Vietnam-based remake Hamburger Hill and solid performances all round make for a quality war film that won't change the mind of anyone who dislikes the genre but will be a potential favourite of those who do.
This is the kind of classic war film that I loved as a kid. It's full of heroics, non-stop battle sequences and no yucky girls! Well, there is one girl, but she's a North Korean soldier and nobody ever kisses her so she doesn't count. :)
Randy Tippy
Super Reviewer
Pork Chop Hill Quotes
| | |
| --- | --- |
| Lt. Joe Clemons: | Douse those lights! You want to murder us? Turn out those damn lights!! |
| Lt. Joe Clemons: | Douse those lights! You want to murder us? Turn out those damn lights! |