Porky's II: The Next Day
(1983)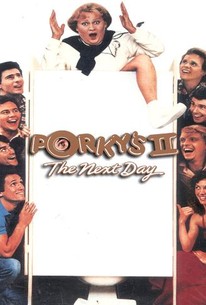 Movie Info
The real world once more takes a back seat to a caricature of itself as the same Florida high-school teens who grossed profits in Porky's by grossing out, have to band together to stop their Shakespeare festival (!!) from being cancelled, due to a crusading, right-wing reverend's attack on the bard's "lewd" content. The reverend is joined by Miss Balbricker(Nancy Parsons) the girls' gym teacher and also the Ku Klux Klan who object to Romeo being played by an Indian. These unlikely allies come up against the libido-laden teens who strip the Ku Klux Klanners and send them running through town naked. Similar styles of revenge are taken to handle Miss Balbrick and the right-wing reverend -- apparently all's well that ends well at the box office.
Critic Reviews for Porky's II: The Next Day
Audience Reviews for Porky's II: The Next Day
Sequel to the underrated Porky's is just as much fun as the first one, and continues where the first one left off. The film has goods moments of good comedy, and I really don't understand why these films were so vilified upon release. With so many more vulgar Teen comedy films that have been released since Porky's and its sequels. As far as sequels are concerned, this is a good enough sequel to appeal to fans of the original, and it has enough effective comedic bits to make for a fun film to watch. Although there is room for improvement, Porky's II is a must see for viewers who enjoyed the first film. The sequel builds up on where the original left off, and the jokes are pretty good for what they are. The plot is quite simple and it is entertaining for what it is, and in my opinion it is among the better teen comedies that are quite memorable. If you've seen the original, you may like this one just as well. Although the original is the better film, I have to9 say that this sequel is on par due to a fun story, decent performances, memorable comedy that manages to stand out, and effective directing from Bob Clark. This is a worthwhile comedy to watch and it is entertaining from start to finish. Those who enjoyed these types of films will surely enjoy this film, and it is a worthy sequel; that is just as good as the original, however, the original Porky's is for me, the better one, but it still is pretty close in terms of effective comedy and plot. Porky's II is the rare sequel that can be just as good as the original.
½
This doesn't live up to the first at all but still has a few laughs in it.
Classic sequel, love these films.
Brian De Guelle
Super Reviewer
Porky's II: The Next Day Quotes
| | |
| --- | --- |
| Wendy: | Hey waiter! Put shit-face's drink here on Commissioner Gebhart's bill! For piss-sake he's up for re-election next week, you think he needs this shit? |