Porky's Revenge
(1985)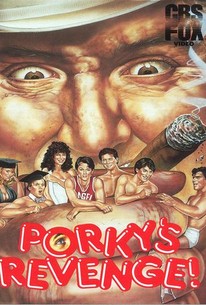 Movie Info
When malevolent casino owner Porky tries to pressure the local basketball coach into throwing the big game, the rowdy, fun-loving members of the Angel Beach High basketball team band together to foil his scheme. This third film in the Porky's series relies on the same brand of raunchy slapstick as its predecessors.
Critic Reviews for Porky's Revenge
Audience Reviews for Porky's Revenge
Third part in the Porky's trilogy of teen comedy films is a fun conclusion the series. The film still has the zany elements that made the films funny and memorable. The cast do a fine job here, and each actor brings something memorable and amusing in their roles. I really enjoyed the trilogy and each film was unique in their own right, even if they weren't great. If you love a fun comedy film that is mindless in its content, then this is a perfect film to watch. Usually by a third entry in a franchise, the ideas start to wander and become tiresome. However with this entry, it still manages to be funny with an interesting plot. The Porky's trilogy of films was the original teen comedy films. Although they were crude in certain parts, compared by today's standards, they're fairly harmless. The third film doesn't break any new ground, but it definitely a good little film that is a pleasant time waster. Just go into this film expecting something amusing, and you won't be disappointed. This is a must see for fans of the first two entries in the trilogy, and although it is nothing original that is being conveyed on-screen, there is all the necessary ingredient to make this is a good conclusion that is funny for what it is. Porky's Revenge is good from start to finish and it still has everything you'd expect from the series. Although in some areas, the film does lack, there is enough good comedic material to make it work well enough for its hour and a half run time.
½
Its a end of a classic sex teen comedy trilogy that are away fun the watch over and over again.
Brian De Guelle
Super Reviewer
½
As silly as the first but you gotta see it
Barry Lappin
Super Reviewer
Porky's Revenge Quotes
There are no approved quotes yet for this movie.