Pornography: A Thriller
(2010)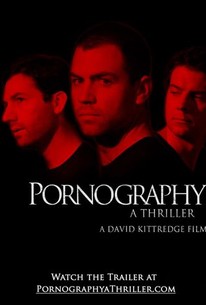 Pornography: A Thriller Photos
Movie Info
David Kittredge directs this chilling, erotic indie about obsession in the adult film world. Over a decade ago, a gay porn star named Mark Anton left the industry, seemingly vanishing into the ether right as his career was picking up steam. Though everyone had a scandalous theory about why he left, no one sought the truth -- until now. When Michael, a young researcher, comes across the story, he decides to investigate, and quickly spirals into a frightening, supernatural fun house of snuff films, voyeurism, and waking nightmares.
Critic Reviews for Pornography: A Thriller
Audience Reviews for Pornography: A Thriller
½
Pornography: A Thriller in an ambitious failure. A single story told in three parts without a real driving force behind it, the film is never able to put the pieces together adequately on screen for the story to make any logical sense. The filmmakers were trying for dream logic, to be fair, so to say they flubbed the editing or the writing is not entirely fair. However, when the mystery takes place over three different time periods and the sole intent of the film is to confuse the viewer, it's not smart; it's frustrating. This would have been a much more interesting film if any of the individual stories had been fleshed out to cover the entire running time (the rise and fall of Mark Anton; the gay porn historian; the actor/writer/director creating his version of what happened to Anton). The actors do all they can with the material even if very little makes sense and the overall story is impossible to piece together. And, lets be honest: a movie about the gay porn industry and named "Pornography" is expected to be, well, titillating. The film never really achieves that, either.
Jason Vargo
Super Reviewer
Pornography: A Thriller Quotes
There are no approved quotes yet for this movie.