Possession
(2002)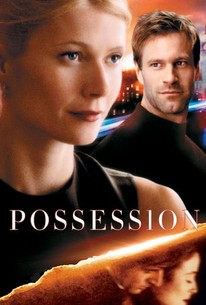 TOMATOMETER
AUDIENCE SCORE
Critic Consensus: It's perhaps a bit tame and uninspiring, considering its subject matter, but Possession manages enough romance and period intrigue to satisfy most fans of its source material.
Movie Info
Roland Michell is an upstart American scholar in London on a fellowship to study the great Randolph Henry Ash. Ash is best known for the rapturous poems he dedicated to his wife, and is currently the subject of a major exhibition. Maud Bailey is a brilliant, by-the-book academic, researching the life and work of the lesser-known Victorian poet Christabel LaMotte. As the history books tell it, La Motte met Ash briefly at a dinner, and they never encountered each other again. When Maud and Roland discover a cache of love letters that appear to link the two poets as secret lovers, they follow the trail of clues across England to the Continent. As the growing mystery leads them from dusty bookshelves to exotic hideaways and beyond, their adventure, in a very modern way, begins to mirror the romantic journey of Ash and LaMotte, over a century earlier.
News & Interviews for Possession
Critic Reviews for Possession
Audience Reviews for Possession
½
I'm still trying to figure out what the heck the title has to do with anything that went on with this film; but that being said, the co-mingled stories are intriguing, well filmed and very well acted. Gwyneth Paltrow and Aaron Eckhart are featured as two professorial types (uh huh) who, upon the 100th anniversary of a famous poets' demise, stumble upon a secret liaison between the married poet and another famous poet, believed to be a lesbian. The pacing works well, building solidly until about the 3/4 mark when things get a bit tangled and too much time is spent on Paltrow and Eckhart's budding relationship (in truth, the 150 year old tale is more interesting). Director Neil LaBute does a masterful job of intertwining the two tales, often using the same scene or location to flip back into the past, or zoom into the present. A fine example is having a car on a rural road pass underneath an old stone bridge, and when the car moves out of the scene a steam engine enters the picture to cross the same bridge. The 150-year-old love story really comes as no surprise, but it is well played, especially by Jennifer Ehle as Cristobel, the female poet. As you would expect from two poets who correspond primarily via letters, the dialog between the two is wonderful, full of poetic terms of endearment and that lovely Victorian sense of language. The modern day language used by Paltrow and Eckhart is clumsy by comparison and jarring in its lack of elegance, as I believe was intended. The device of telling the poet's story through the discovery of letters works well here, and again LaBute is able to juggle shots of the story along with capturing the excitement of Paltrow and Eckhart as they read the letters to each other. The film uses a haunting music score as background to the 150-year-old story to good effect, and the cinematography is tactfully artful, not showy. The only real pratfall is the resolution of Paltrow and Eckhart's story line, and the plot vehicle involving the late night unearthing of the final piece of the puzzle, where fisticuffs are used, but unnecessary, out of place, and almost laughable. Said final piece allows for a touching flashback ending that includes a final letter being abandoned to the wind; a nice touch that lets you wonder what may have happened if said letter had been delivered. A romantic film that has a compelling mystery within it, I found it mostly charming and was interested in the poet's tale, even though you could see the melodramatic aftermath coming from miles away.
paul sandberg
Super Reviewer
I'm unsure if you have to be a complete nerd in order to enjoy this film. I mean: did I like it because the prospect of uncovering a literary mystery excites my nerd-dar, or did I like it because the film was able to raise this literary mystery/love story to a level of true suspense? On that note, it is actually rather interesting that the same good guy versus bad guy cliche can be translated to English scholars; in this case, the good guys are motivated by the search for knowledge, and the bad guys are motivated by greed. On a side note, this film made me wonder about the branch of literary criticism in which the film's characters engage. Biographical criticism functions on the theory that an author's life is paramount to understanding his/her work, and I refuse to engage in it not because I think the central tenet is wrong but because I don't think it's any of our business. In this film, two scholars, who weren't born when the 19th Century writers they're researching lived, read personal letters that the authors never intended for a larger audience. It makes me think that I should burn that journal that I can't bring myself to burn. As much as I enjoyed the film, there are some flaws. The conflict between Mitchell and Dr. Bailey is never fully understood because whatever tortures Mitchell was never revealed. Also, when other characters talk about Dr. Bailey, they deploy stereotypes about gender theorists. However, not only does Bailey's behavior belie these stereotypes, but it is rare that English scholars will bandy about such labels. Overall, though it's not for everyone, this is a very well-made film, featuring two cleverly paralleled stories, Paltrow's nearly perfect British accent, and a plot that will make the nerd in you blow the dust off your Norton.
Jim Hunter
Super Reviewer
½
This was a wonderful movie. I really love movies based around history, and this was full of it. Plus romance and mystery. It had it all for me. Loved it!
Cynthia S.
Super Reviewer
Possession Quotes
| | |
| --- | --- |
| Christabel LaMotte: | How can we bear it. Every day we ill have less. |
| Randolph Henry Ash: | Would you rather have nothing? |