Postal
(2007)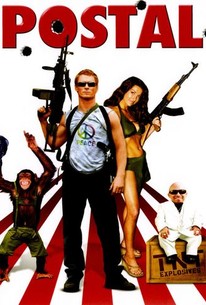 TOMATOMETER
AUDIENCE SCORE
Critic Consensus: An attempt at political satire that lacks any wit or relevance, Postal is nonetheless one of Uwe Boll's more successful films -- for what it's worth.
Movie Info
Notorious, critic-boxing director Uwe Boll takes the helm for this adaptation of the controversial video game that ignited controversy across the globe and is actually illegal to own in Australia and New Zealand. Dude (Zack Ward) is an unemployed slacker currently subsisting on Social Security until he lands his next job. Dude's uncle Dave (Dave Foley) is a cult leader currently in dire financial straits. When Uncle Dave hatches a plan to rip off a local amusement park, Dude sees the heist as the perfect opportunity to make a little extra cash. Unfortunately for Dude and Uncle Dave, the Taliban are all set to execute the exact same heist. Erick Avari, Seymour Cassel, Verne Troyer, Larry Thomas, and J.K. Simmons star in a deliberately over-the-top action comedy that is sure to garner as much controversy as the video game that inspired it.
News & Interviews for Postal
Critic Reviews for Postal
Audience Reviews for Postal
½
I can imagine this is a highly controversial film in the US haha its laden with very dark black humour and is possibly more filled with satire than Robocop, at least satire thats strong for this time. Black comedy is an understatement, this is down right pitch and pretty strange too. Much like a real computer game or the actual game (which I have never played by the way) there isn't really any story for this film, just a couple of guys who need to steal a ton of cuddly dolls to make money, one to escape his shit hometown the other to pay of a huge tax bill. At the same time the Taliban wants the dolls too, and of course to blow up the western world. Its very weird and doesn't make any sense really, its just a long gun battle with many many deaths and typical cliched characters, but that doesn't mean this is a bad film. The little sequences where Bin Laden chats with Bush are actually very good and quite genius :) Boll has strong opinions here ;) much like a Michael Moore film there are so many references like this strewn throughout and the ending pretty much sums up the whole feel of the film and the real world to a degree...scary :( Whats more scary is the beginning of the film with a quite close to the bone sequence of an airliner being flown into a skyscraper hmmm :( The cast are all unknown virtually and do an OK job, the main lead Ward is actually pretty good as a everyday guy who slowly becomes a gun totting 'Mad Max' style vigilante. There are plenty of sexy girls, Boll makes a cameo defending his films as himself, but ends up getting shot in the nuts haha numerous bizarre deaths with little or no consequences, and that includes babies and kids getting blown away or run over, cops with no morales etc...its just your everyday GTA style computer game on the big screen. In that aspect Boll has made a very good film which could be the closest thing to a perfect computer game adaptation, its close to source material, its clearly made for the right age group and hasn't been watered down and it does actually look like a free roaming GTA style game. The fact that it doesn't really make any sense and has no meaning doesn't really matter...its a film based on a violent computer game which has no real point to it accept to run around and kill people. Depends how you look at it. Very clever in places with strong yet clearly comicbook/computer game style violence and probably Bolls finest hour so far.
Phil Hubbs
Super Reviewer
Postal is a better film by director Uwe Boll. Postal is based on the controversial video game of the same name, and the film is politically incorrect. The film is pretty funny and does a good job at entertaining. Uwe Boll manages to direct a competent film, and it's not dreadful like Alone In The Dark, Bloodrayne, House Of The Dead and In The Name Of The King. A decent enough comedy with politically incorrect laughs to be had, Postal is a live action version of South Park.
Congratulations Toilet Boll! Postal absolutely sucks! This is a shocker. Oh wait, no it isn't.
This film may only be loosely based on the video game by the same name, but this monstrosity is so crappy that it still gives the game a bad name. This movie is not funny, not entertaining, and much too long. Seriously, the 1 hour 40 minutes feels like an eternity.
The movie is supposed to be wacky and over the top, but this film still goes nowhere. Boll's attempt at humor is executed poorly in a story with plot holes, which shouldn't matter, but they do anyway. Boll just continues to find ways to disappoint.
Zack Ward is unimpressive, Dave Foley has full frontal nudity, and J.K. Simmons lowers his reputation just by taking a role in this abomination. At least there are a handful of scantily clad women to look at. Their acting, on the other hand, is also "scantily clad." To top it all off, Toilet Boll actually appears as himself. As if this movie isn't bad enough, but now his face appears on the screen and his voice is heard.
Postal is a picture that fails at every turn. Avoid it at all costs and move on.
Postal Quotes
| | |
| --- | --- |
| Dude: | I'll do anything to get money |
| Uncle Dave: | Ok take me up the ass |
| Dude: | What? |
| Uncle Dave: | I'm just fucking with you. |