Poster Boy
(2006)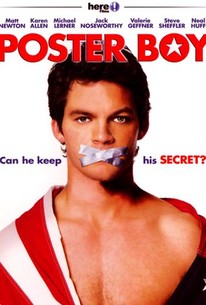 Movie Info
A conservative politician who believes he can count on his family for support discovers his son is not the man he thought he was in this drama. Jack Kray (Michael Lerner) is a United States senator from the South whose right-wing views have earned him the nickname "the Nazi from North Carolina." Jack is running for reelection and is looking for support wherever he can get it; told he needs to increase his appeal with younger voters, Jack tries to persuade his son Henry (Matt Newton), a college student, to make a few campaign stops with him. While Jack's wife (and Henry's mom), Eunice (Karen Allen), tries to convince her husband this isn't a good idea, Jack refuses to take no for an answer from Henry. But there's something Jack doesn't know about his son -- Henry is gay, and while he only shares this secret with a small handful of trusted friends and lovers, he can't bring himself to support his father's anti-gay "family values" platform. However, Henry's sexual preference may not stay a secret for long -- Henry has hooked up with Anthony (Jack Noseworthy), a student political activist who wants a long-term relationship with Henry and refuses to play coy about it, while some of Henry's other partners have come forward about his homosexuality. Poster Boy was originally announced as a project for director Herbert Ross, who died before the film went into production; Douglas Keeve took over as director, but resigned before shooting was completed, so editor Zac Tucker completed the movie and received sole screen credit.
News & Interviews for Poster Boy
Critic Reviews for Poster Boy
Audience Reviews for Poster Boy
Sadly, the poster is the best thing about this movie. Low quality film, awful lighting, unappealing characters and almost nonexistent sound editing make this film hard to watch. The film thinks it's more profound than it is and comes off like the brainiac you knew in junior high lecturing you for 90-plus minutes on his thoughts about unremarkable topics.
Christian C
Super Reviewer
The camera work made me wanna shoot myself.. Average acting for a low budget film and average plot. But they could have spent a bit more money on hiring a proper camera man and that would have improve the film significantly. Not recommended to view unless you can withstand the experience of Blair Witch Project (Even Blair Witch Project has better camera work than this)
Sylvester Kuo
Super Reviewer
This movie tries too hard to be "artsy" and the story gets lost in that process. It is really good compared to most gay movies. Several characters are just almost unbearable!
Thomas Johnston
Super Reviewer