Pound Of Flesh
(2015)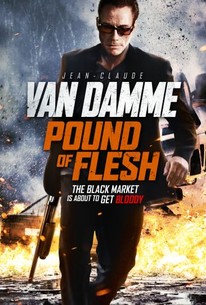 Movie Info
In China to donate his kidney to his dying niece, former black-ops agent Deacon awakes the day before the operation to find he is the latest victim of organ theft. Stitched up and pissed-off, Deacon descends from his opulent hotel in search of his stolen kidney and carves a blood-soaked path through the darkest corners of the city. The clock is ticking for his niece and with each step he loses blood. (C) eOne
News & Interviews for Pound Of Flesh
Critic Reviews for Pound Of Flesh
Audience Reviews for Pound Of Flesh
JCVD is back! he's 54 years old but nevertheless he's back kinda doing what he does best, kinda. This new action thriller is his latest offering and it lets not beat around the bush here, this movie is really plumbing the depths of crapola. The story goes like this, JCVD has a brother who has a daughter that needs a kidney transplant or she will die. JCVD has donated his kidney to save her but amazingly the day before this very important operation JCVD gets stitched up (pun intended) by some tart in a club and awakens the next day to discover he's been the victim of organ theft! I mean seriously, what are the odds of that huh! talk about bad luck. Of all the crimes that could of happened to him, they go and pinch his kidney! just when he needs it. If they had just nicked his wallet everything would have been OK sheesh! So JCVD now has to trawl through the seedy underbelly of some Chinese city (that's where its set) to find the culprits that stole his kidney. It seems pointless because you'd of thought they would have used the kidney straight away but never mind. Again, luckily, JCVD happens to be a ex-black ops special agent (straight outta the Steven Seagal school of action movies) so he knows everything there is to know about kicking ass and killing people in various ways. Along for the ride on this time limited quest he has his soppy, not very tough brother at his side and some ancient old Chinese master type person who is some kind of kingpin or criminal know-it-all? actually not got a clue. Oh and not forgetting some bimbo he picks up along the way, the same bimbo that tricked him in the first place I might add but really she has a heart of gold. So the plot is ridiculous but I didn't expect much. What made me laugh was the fact these big time criminals cut open JCVD, nicked his kidney and then left him money, medication and instructions on how to recover! Surely the easiest way to get away with this would be to kill him, isn't it obvious the guy would probably cause trouble and possibly come after you. What makes it worse is the fact the bad guys seems to know who he is, so they know he can kick ass and cause trouble. The argument that they might need his other kidney makes no sense either because I'm sure I've read you can use kidneys from dead bodies. Anyway the plot aside, this movie really really looks bad, I mean really bad, the production values are low and it all looks very cheap. For a start the use of greenscreens here is atrocious! every time anyone is in a car its a greenscreen, and a very very obvious greenscreen at that. They clearly had no money for extras because when there is suppose to be a crowd of people its pathetically small. For instance JCVD sneaks into this undercover fighting arena run by Triads, its clearly meant to be this big brawl fest with lots of sexy female patrons milling about, hired goons, people cheering etc...But when we see an aerial shot of the fighting ring there must be about 50 people there including the goons and fighters, plus you can see its set in a large open space that isn't being utilised because they don't have the budget or people. Other action set pieces are laughable bad such as the high speed car chase at around 30mph. I swear this one car chase is so obviously being shot at slow speeds its cringeworthy. To make matters even worse, and even more funny, JCVD and co are shot against those hilariously obvious greenscreens again. So you have these cars supposedly tearing around when actually they're going quite slow, then they cut to JCVD inside the car against an obvious greenscreen! At one point the car hits some roadwork bollards and barriers in real time. It then cuts to JCVD inside the car and clearly someone behind the camera chucking some bollards on the car! (I laughed out loud right there). Still we all know why we're here, to see JCVD fight...and that's all. Prepare for a shock, JCVD doesn't quite have it anymore folks, either that or the film crew had no idea how to film a fight...or a film. The fights are so so badly shot and edited here, you don't feel the hits, you don't get that adrenaline rush when contact is made, everything seems so weak, the angles are awkward and most of the time the lighting is bad too. Not that there is a lot of martial arts going on anyway, you get a fight at the start and the obligatory fight at the end with the main martial arts opponent (Darren Shahlavi). In between that there is a gun battle when JCVD storms the bad guys lair with yet more laughably bad action complete with CGI bullet hits, fake exploding doors and henchmen that miss at point blank range. No idea why the female character is here because she stands around doing nothing. At one point JCVD and co retreat to a family summer house which appears to be some kind of huge log cabin (in or near a Chinese city?), but somehow the bad guys knew they would do this and booby trapped it. The main bad guys lair is some huge courtyard house with his own personal army of useless henchmen, oh and he's some crusty old British gent type naturally (stereotypical nod to British Imperialism perhaps?). Oh and he sits around watching JCVD and his main henchman fight like the Emperor did in 'RoTJ'. This really is one of the worst JCVD movies I've seen and one of the worst action movies I've seen in along time. I know some of the older action stars like Dolph and Seagal make straight to DVD shit in general but some of them aren't too bad at times, Dolph's are usually OK actually, but this has to rank as one of the worst. Apart from the fact the movies main lure, the fighting, is poor and badly choreographed, there is little of it and what's left looks woefully cheap and nasty. This really is bottom of the barrel stuff.
Phil Hubbs
Super Reviewer
Pound Of Flesh Quotes
There are no approved quotes yet for this movie.