Power of Nightmares: The Rise of the Politics of Fear
(2004)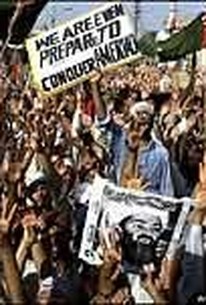 Movie Info
Political proverb states that a population in fear is a population that is easily controlled. In this documentary exploring the climate of fear that existed in the wake of the September 11, 2001 terrorist attacks on the United States, filmmaker Adam Curtis explores the possibility that Western neoconservatives used anxiety as a tool to manipulate the masses into behaving in a predictable and controllable manner. By claiming that contemporary Western Democracy relies more on propagating the myth of an all-powerful al-Qaeda just waiting for the right time to strike rather than focusing on domestic issues and the bettering of the people, as previous generations of politicians had done, Curtis suggests that Washington is intentionally manipulating the population into a defensive stance that gives those in charge more power than necessary. ~ Jason Buchanan, Rovi
Critic Reviews for Power of Nightmares: The Rise of the Politics of Fear
Audience Reviews for Power of Nightmares: The Rise of the Politics of Fear
½
I wish the argument was more fully formed in some regards. Curtis glosses over certain details he doesn't know how to really address, but he still manages to make some really strong points. Mostly what works is his bold supposition that the danger of al-Qaeda as a shadowy organization with thousands of followers has been largely exaggerated. I also like the parallel tale of the rise of Islamic Fundamentalism and the Neo Conservatism.
Alec Barniskis
Super Reviewer
a 3 pt documentary film on the link between radical islamists and the neoconservative movement. fascinating stuff and mostly very plausible. all the films of adam curtis can be found here--> http://thoughtmaybe.com/video/the-power-of-nightmares
Stella Dallas
Super Reviewer
This is an excellent three-part BBC documentary which traces the origins of radical Islamism and American Neo-Conservatism to a mutual hatred of post-WWII US liberalism. To the Neo-Conservatives, liberalism was to blame for an epidemic of selfish individualism that threatened to tear American society apart, while the Islamists were equally alarmed about the corruptive influence of this perceived 'moral decay' on the Muslim world. The Neo-Conservatives' solution: to create a unifying, mythical Nightmare that would bind society together. Initially they did this by exaggerating the threat posed to the United States by the moribund Soviet Union. The radical Islamists solution: a campaign of violence that would shock the Muslim masses back to the Qur'an. The terrorist attacks of 9/11 provided the Neo-Conservatives with just what they had been looking for since the collapse of the Soviet Union left them with an 'Evil Incarnate' vacuum to fill: a 'global terror network' of jihadists called Al-Qaeda. Although the final episode perhaps smacks a little too much of conspiracy theory, on the whole the The Power of Nightmares is beautifully put together and very persuasive. If I can nitpick, the use of music is effective to begin with but I was sick to death of those couple of bits of Eno, Ennio and John Carpenter after three whole hours! Adam Curtis has struggled to get his film seen in the US but at present it is available on the Internet Archive. Essential viewing for anybody trying to make sense of the times we live in; see it while you can.
Power of Nightmares: The Rise of the Politics of Fear Quotes
There are no approved quotes yet for this movie.