A Prairie Home Companion
(2006)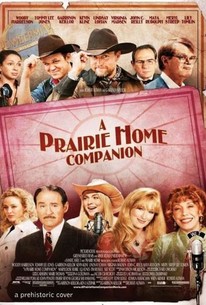 TOMATOMETER
AUDIENCE SCORE
Critic Consensus: The final film by the great Robert Altman, A Prairie Home Companion, the big screen adaptation of Garrison Keillor's radio broadcast showcases plenty of the director's strengths: it's got a gigantic cast and plenty of quirky acting and dialogue.
A Prairie Home Companion Photos
Movie Info
Director Robert Altman and writer Garrison Keillor join forces with an all-star cast to create a comic backstage fable, "A Prairie Home Companion," about a fictitious radio variety show that has managed to survive in the age of television. On a rainy Saturday night in St. Paul, Minn., fans file into the Fitzgerald Theater to see "A Prairie Home Companion," a staple of radio station WLT, not knowing that WLT has been sold to a Texas conglomerate and that tonight's show will be the last. Shot entirely in the Fitzgerald, except for the opening and closing scenes which take place in a nearby diner, the picture combines Altman's cinematic style and intelligence and love of improvisation and Keillor's songs and storytelling to create a fictional counterpart to the actual "A Prairie Home Companion" radio show, which has heard on public radio stations coast to coast for the past quarter-century (and which, in real life, continues to broadcast). The result is a compact tale with a series of extraordinary acting turns.
Critic Reviews for A Prairie Home Companion
Audience Reviews for A Prairie Home Companion
Altman's final film is a touching meditation on death and changing of the times. With a great ensemble, Altman delivers his swan song.
Graham Jones
Super Reviewer
First off, Garrison Keillor is a national treasure, and as an occassional listener of the real A Prairie Home Companion, I was delighted that they had decided to make a movie centered around it, and that I finally saw it. This is a look at the (fictional) last show of the long running radio show (performed on stage in front of live audiences) that is an ode to old timey radio shows, Americana, and folksy, old time music. The show itself is also very much a legit member of the very thing it is an homage to, and I will be really bummed out when it does end for real. Even though this is fictionalized, it's a fascinating look at what likely goes on during and behind the scenes of a show like this, made more dramatic by the fact that this scenario positis that the showing being done is the final one. The film is an elegy (on multiple levels) as is a real meditation on the past, death, endings, and questions of the future, though it mostly focuses on the past. It all sounds heavy and somber, but it's actually presented in a very light and bittersweet way, and I think that, as Robert Altman's final film, it was a great way for him to end his lengthy career. I have no doubt he knew this was his final film, but I'd like to believe that the film's themes and mood were planned that way from the get go, and that they're made more powerful because he was dying and knew this would be his last hurrah. This makes it a bit more haunting, but death is presented in a rather gentle and calm way, despite the lingering somber undertones. In typical Altman style this has naturalistic, improvised, yet stylized feel to it, filled with long takes, a continually moving (no matter how subtle) camera, and of course, a sprawling ensemble cast filled with many notable names from Keillor to Kevin Kline, Woody Harrelson, John C. Reilly, Lily Tomlin, and Meryl Streep among others. Even Lindsey Lohan shows up and does a decent job. In fact, there's not really a bad performance to be found, and that includes the musical numbers and not just the acting. I actually rather like the film's loose plot about the scenario with the show, although I am bummed that there's no "News from Lake Wobegon" segment. I think that might be my only real complaint to be honest. Given that I'm not as well versed in Altman as I'd like (though I'll be watching and reviewing two more of his films within the next few days) I maintain that this is a good film for him to go out on, though I think an Altman diehard might be more qualified to answer that. I have no idea what people who aren't fans or familiar with the show and the type of music it features would think of this movie, but I like it. I'd like to think that if you enjoy quaintness, nostalgia, and get a warm fuzzy feeling when you reminisce about small towns, the good old days, and simpler times ,then you miht just get something out of this if you give it a watch.
Chris Weber
Super Reviewer
"A Prairie Home Companion" is a downright fabulous movie. If you are a fan of the show, the old fashioned country music or the good old days of radio, you are bound to enjoy the film. The cast works wonders and every actor delivers a fun performance. I love how Robert Altman and Garrison Keillor shape their film into something that is both a loving tribute to radio but is also blazingly cinematic, a film that is as much about life as it is death, a film that is is extremely precise in it's execution but couldn't seem more free. (Watching "A Prairie Home Companion" all these years later, knowing full well that the death of Robert Altman happened months after it's release, ends up being a prophetic and haunting experience.)
Steven Carrier
Super Reviewer
A Prairie Home Companion Quotes
There are no approved quotes yet for this movie.