Prank
(2013)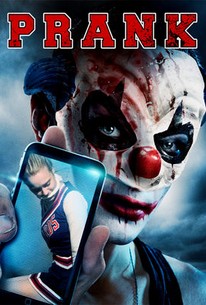 AUDIENCE SCORE
Critic Consensus: No consensus yet.
Movie Info
Three high school misfits plot to humiliate their bully on camera, and inadvertently end up capturing his execution in this found footage-style psychological thriller.
Critic Reviews for Prank
All Critics (1) | Fresh (1) | Rotten (0)
For a first-time feature filmmaker, Lam does have three short films to his credit, it's pretty amazing how much Yiuwing Lam does right here.
Audience Reviews for Prank
The found footage genre still has a lot to prove before it is dismissed as a gimmick. None more so have proven this than the horror genre which has taken the most damaged from this style. Constituting shaking as legitimate camera work, not showing us anything exciting as a set piece, and blurred effects as competent editing. However, Prank is a psychological horror film that shows the horror genre can use the found footage format to great effect. Sadly though it makes the same mistakes the genre is known for and fails reaching what it was aiming for. Prank follows three high school senior trying to execute the perfect prank on their bully which goes horribly wrong in the process. Now the premise is relevant with the rise of bullying becoming more problematic giving "Prank" a dose of realism. Showing the psychological downfall of a bullied victim and the path it could possibly lead to if such an issue failed to be resolved. Not to forget it has some level of logic. Granted some things that occurred go unexplained like body bags magically positioned in the right place at the right time during a prank. It also fails to cover some plot holes which in turned some viewer will be able to see it twist coming before getting to it. Although when reasonable actions (liking calling the police) don't work we're given dialogue that give enough justification to buy what occurs. Sadly that's all the complement the script will gain. The biggest issue everything feels artificial. Every character is a one dimensional nerd and bully trope without gaining any kind of characterization. What you get in the introduction of these characters is what you're stuck with. The purpose of having these characters remain static is eliminated with a plot twist. Now the plot twist itself is could have worked, but the script doesn't follow it up with any substantial material. Once the plot twist occurs it decides to immediately to go the finish line instead of building upon it. Making the ending abrupt and lacking the punch needed to deliver its message. It's one of the few instances where one revelation crumbles the whole experience. As for the reason for why everything is filmed it is passable, but would have been more realistic if the character weren't filming every damn thing like say...when they're killing someone. Leading actors Nick Renaud and Henry Monfries are solid in their role. Granted the actors can get obnoxious at times, but they do their job convincingly. Both actors pretty much play the same character. One starting out being vengeance heavy and the other being sympathetic only to switch characteristic when a major plot point occurred. Out of the two the stand out was Henry Monfries. Henry Monfries starts out as the distant, aloof sarcastic teenager and arcs into a near monster when his breakdown happens. It's a decent a performance and not to bad for a newcomer. The two lead have great chemistry and a bizarre relationship that works. The supporting cast fit their roles well enough. None of them particularly stand out though Alastair Ferrie as the object of the vengeance and the bully Dax are overplayed. The supporting cast doesn't do much with the amount of screen time given to them. Director and writer Yiuwing Lam has room for improvement. His writing was passable while his direction could use some work. The main drawback to seeing the film is actually seeing it. The editing is makes it a chore to view constantly cutting to black whenever the characters turn off the camera. Sadly I lost count at around twenty something in the first half hour mark. Also the low body count and lack of blood will turn off those looking for some gruesome carnage. Prank contains a decent setup, but fails to follow it up. The script tackle a relevant issue without the material behind it to convince you to take notice of it. If anything it characters works against that message as the one dimensional character can't represent such a complex issue due to where it narrative ends up going. While I have no doubt the cast and crew have an opportunity to do something better their first outings is nothing that will put them on the radar of any major film studio.
Caesar Mendez
Super Reviewer
Prank Quotes
There are no approved quotes yet for this movie.